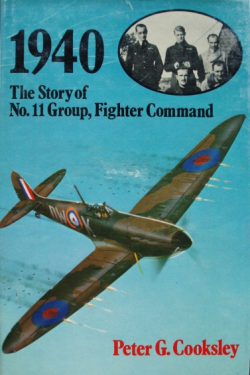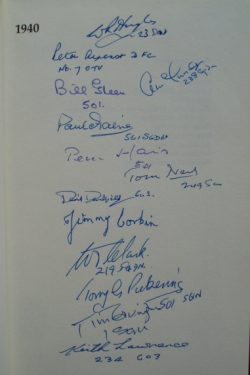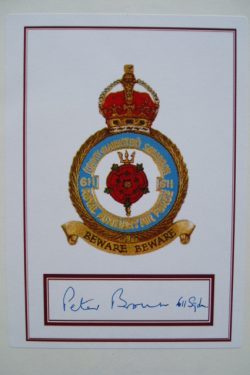 1940
The Story of 11 Group, Fighter Command in the Battle of Britain
Multi-signed
Sold
From the library of Sqn Ldr Peter Brown AFC with his signed bookplate
and signed by 13 Battle of Britain Pilots

Bill Green, Jimmy Corbin, David Denchfield
Terry Clark, Paul Farnes, Peter Ayerst, Peter Hairs, 
Bob Hughes, Keith Lawrence, Archie McInnes,
Tony Pickering, Tom Neil, Tim Elkington
Robert Hale first edition 1983.  224 pages and well-illustrated with photographs.
Fine condition hardback book with a similar condition dustjacket.  Clean, bright and tight. Squadron Leader Peter Brown flew in the Battle of Britain with 611 and 41 Squadrons.  This book came from his library and the signatures were subsequently added.
From June to September 1940 the author follows No.11 Group Fighter Command which bore the brunt of the Luftwaffe assault on Britain as a preliminary to the planned invasion. Operating from 7 sector stations in the South East and their satellites controlled from RAF Uxbridge, the author describes the role of 11 Group in the Battle of Britain from grass roots level, with the unglamorous ground jobs of filling in bomb craters and making aircraft fit for service, as well as the pilots in the air and the strategy of the commanders.
A neat collection of Battle of Britain signatures in a relevant book.