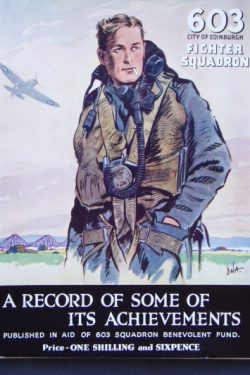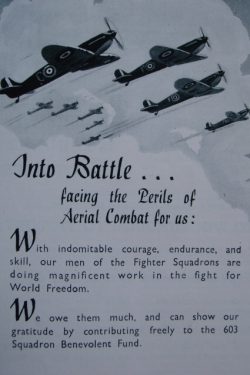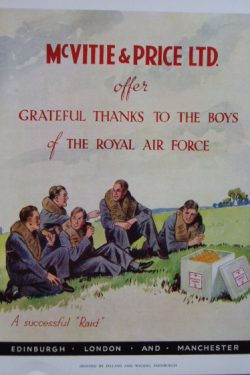 603 (City of Edinburgh) Fighter Squadron
A Record of Some of its Achievements
Sold
A very rare wartime publication in stunning condition



Published by The Scotsman in aid of the 603 Squadron Benevolent Fund. 1943.  Approx. 65 pages with plenty of photos and period advertisements. 
Fine condition magazine printed on quality glossy paper.  This magazine is very fresh and feels like it has lain in a dark drawer for the last 75 years.  Currently, there are not any other copies available anywhere apart from a reference copy in the Imperial War Museum archive.
Chapters in this magazine include;
'Edinburgh's Fighter Squadron in Peace and War',
'Esprit de Corps',
A Nominal Roll of Officers and Airmen as at 3rd September 1939,
'Forth Raid',
'First Night Attack',
'Kipper Kites',
'The Battle of Britain from Bannocks to Blitzkreig',
'Greatest Squadron of them All',
'Italian Rout',
'The Battle of Malta and Edinburgh's Share in it',
'But the Pilot is Safe – Stories of Escape'.
There are some excellent advertisements both from local business and also from aircraft manufacturers and some great photos of the Squadron and its pilots.
A fabulous period magazine showing the pride and affection that 603 Squadron had in the hearts of the folk of Edinburgh.