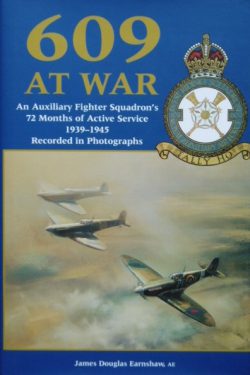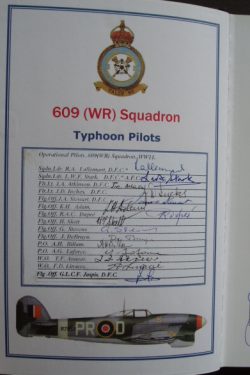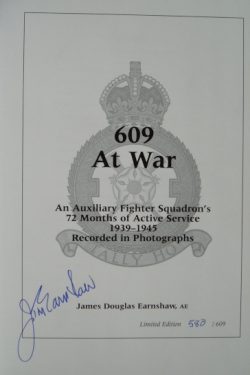 609 at WAR
72 Months of Active Service 1939-1945 - Recorded in Photographs
Multi-signed
Limited Edition Book 580/609 signed by the author 
Special bookplate signed by Fifteen 609 Squadron Typhoon pilots
Signatures include 'Cheval' Lallemant, (Commanding Officer 1944), 'Pinkie' Stark, (Commanding Officer 1945), Joe Atkinson, Jimmy Stewart, Sir Ken Adam, Rik Dupre, H Skett, Geoffrey Stevens (Battle of Britain), J DeBruyn, lan Billam, Albert Laforce, George Jaspis.  
Additionally signed by Jimmy Stewart at the head of the chapter which describes his adventures 
Published by Vector. First edition 2003.   292 pages containing hundreds of photographs
Fine condition hardback book and dustjacket.  Clean, tight and unread. Practically new.
This is a photographic history of 609 (West Riding) Squadron's role in WWII from 1939 to 1945.  The main aircraft types were Spitfires and Typhoons and this superb selection of photos shows the squadron and their aircraft at work and play.
A unique history of a famous squadron told mainly through captioned photos. This book is a quality publication with a great collection of signatures and with plenty of room to add others.