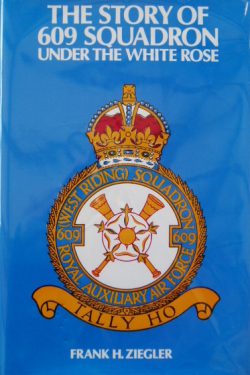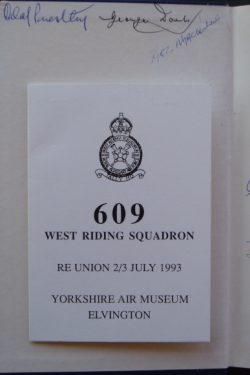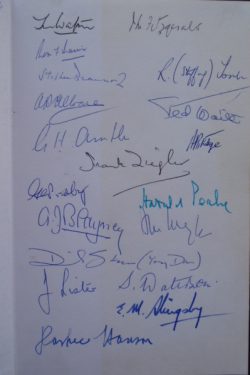 The STORY of 609 SQUADRON
Under the White Rose
Multi-signed
Sold
MARCH ~ *BOOK OF THE MONTH*
There are some aviation books that are so rare and highly sought after by collectors
from all over the world that it would be unfair to sell such a book on a 'first come' basis.
Therefore, each calendar month, Spitfire Books is offering a rare book for sale
and invites collectors to submit a 'best offer' during the month by email or telephone
---
Multi-signed book and ephemera signed by Frank Ziegler
and 28 members of 609 Squadron
Signatures in the book include:
Harald Peake, (1st CO 1936-38), GH Ambler, (2nd CO 1938-40), George Darley (BoB & CO 1940),
Alec Ingle (BoB & CO), AR Edge (BoB), Stephen Beaumont (BoB)
& Wartime SNCOs Darkie Hanson, Olaf Priestley, JM Fitzgerald.

Signatures in the Menu are two COs;
Roland Beamont & Pinkie Stark

Signatures on the postcard are Battle of Britain pilots;
John Bisdee, Teeny Overton, John Bentley-Beard, Michael Appleby & Joe Atkinson 
Published by Macdonald, First edition 1971.   352 pages and well illustrated with photos,
Fine condition hardback book and Fine condition unclipped dustjacket.  Clean, tight and bright. The book belonged to DL Ward who was groundcrew with 609 Squadron.  The book was signed at a Squadron reunion in the 1970's, possibly the book launch, but definitely before 1978 as that was when Harald Peake died.  The menu card and signed postcard are not attached to the book.
A fascinating book detailing the history of the famous 609 (West Riding) Squadron between 1936 and 1957 written by the Squadron Intelligence Officer Frank Ziegler who served with the Squadron for 3 years. 
A very collectable squadron history complete with the signatures of some of its distinguished surviving members.
Click a picture to enter the gallery….