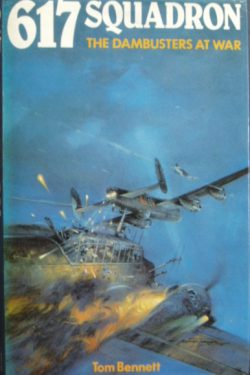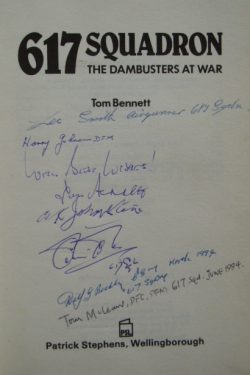 617 SQUADRON
The Dambusters at War
Multi-signed
Signed on the title page by 7 distinguished 617 Squadron aircrew
 Squadron Leader Tom Bennett DFM
Warrant Officer Wilf Bickley CGM
Archie Johnstone
Les Smith
Colin Cole
Harry Johnson DFM
Tom McLean DFC DFM
PSL First Edition 1986.  272 pages and well illustrated with photographs
Very Good condition hardback book and dustjacket.  
The story of 617 Squadron after the Dams Raid and the precision bombing techniques developed by the squadron. Under Mick Martin, Leonard Cheshire and Willie Tait, the Squadron's later wartime operations were equally daring and remarkable.  Tom Bennett, himself a former 617 squadron Navigator was the squadron's official archivist and describes the numerous personalities and close teamwork with humour, perception and insight that only first hand experience can bring.
The signatures include; Wilf Bickley who was Leonard Cheshire's air gunner and who was awarded the prestigious Conspicuous Gallantry Medal (only 110 awarded) for completing 71 operations; Tom McLean who was one of the few 'Ace' air gunners with 7 victories over 51 operations; Les Smith an air gunner on Tony Iveson's crew, Archie Johnstone a bomb aimer and Colin Cole a Wireless Operator – all of whom are mentioned in the book.
An excellent 617 Squadron signed book.