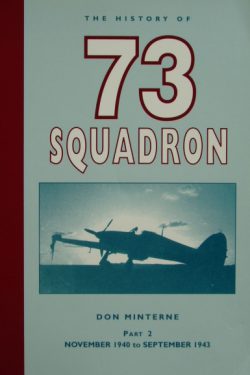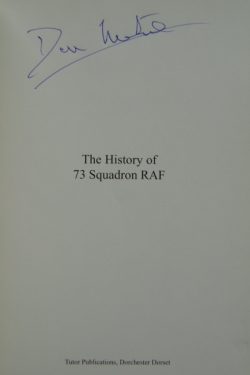 73 Squadron RAF
Part 2: November 1940 ~ September 1943
Author signed
Signed by the author,

Don Minterne on the half title page 
Tudor Publications First edition 1997. Over 300 pages and very well illustrated with photos and newspaper and document extracts and colour profiles of squadron aircraft.
Very Good condition card cover book. Clean, bright and tight.  The only defect is a small crease to the bottom right corner of the front cover and subsequent six pages.
This is the second part of a three part history of No 73 Squadron.  It takes up after the Battle of Britain and covers the Squadron's deployment to the Western Desert and is packed full of detail for anyone interested in researching this theatre of war. Squadron Commanding Officers during this period included 'Ginger' Murray, Peter Wykeham and Fred Rosier who all went onto complete distinguished RAF careers.
This book takes the form of a daily diary of actions each day over the period. From November 1940, 73 Squadron flying the Hurricane, moved to Egypt and operated in the Western Desert and Tunisia. In June 1943 they re-equipped with Spitfires and moved to Italy. In Appendices are: Hurricane serials; Pilots; Bases; Commanding Officers; Roll of Honour, Selected Bibliography; Glossary of Terms and Abbreviations; Movement Order 30 December 1940;  Claims & Decorations.
A useful reading copy of a scarce squadron history.