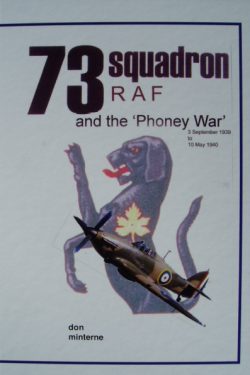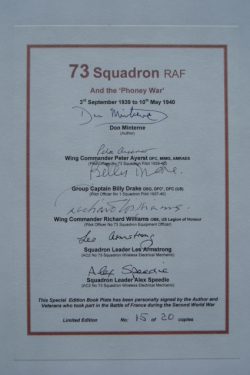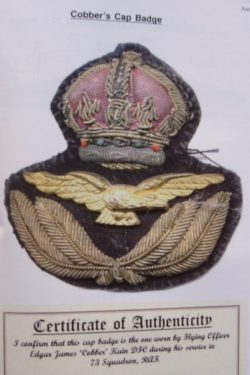 73 Squadron RAF
The History of 73 Squadron in the Phoney War 3 Sept 1939 ~ 10 May 1940
Multi-Signed
Limited edition multi-signed bookplate 15/20 signed by veterans who took part in
the 'Phoney War' and the Battle of France during 1939/40

Don Minterne (author)
Wing Commander Peter Ayerst DFC ~ (Pilot Officer 73 squadron pilot 1939-40)
Group Captain Billy Drake DSO DFC* ~ (Pilot Officer 1 squadron pilot 1937-40)
Wing Commander Richard Williams ~ (Pilot Officer 73 squadron equipment officer)
Squadron Leader Les Armstrong ~ (AC2  73 squadron wireless electrical mechanic)
Squadron Leader Alex Speedie ~ (AC2  73 squadron wireless electrical mechanic)
Tudor Publications First edition 2009. 120 pages and very well illustrated with photos and newspaper and document extracts.
Fine condition hardback book with a laminated cover. Clean, bright, tight and feels unread. As new.  Additionally signed by the author on the title page and besides the bookplate being limited to 15/20, the book itself bears a limitation of 95/150.
No 73 Squadron was one of the first two Hurricane Squadrons sent to France at the outbreak of war (along with No 1 Squadron).  They formed the AASF and were very much in the public eye during the six months of the so called 'Phoney War' due to embedded reporters and photographers who fed stories and pictures back to a news hungry and nervous British public.  The first ace of the war was 73's Cobber Kain and he lived and died in a blaze of publicity and this book contains much material about him.
Don Minterne has previously authored a complete wartime history of the squadron, published in paperback, but this expanded and updated version focussing on the Phoney War period allows the fantastic collection of photographs (courtesy of the embedded professional photographer and private collections) to be given full exposure. A complete and fascinating history of a squadron in the early months of the war.