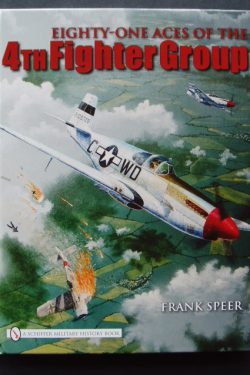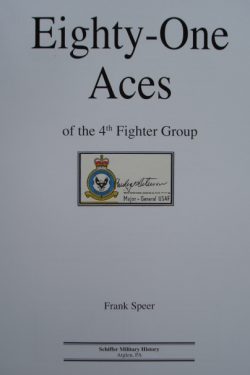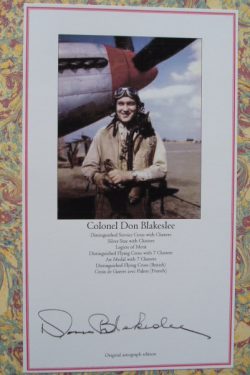 81 ACES of the 4th FIGHTER GROUP
By Lt Frank Speer
Signed by Don Blakeslee
Original Autograph Edition
Colour bookplate signed by Colonel Don Blakeslee
+
Bookplate signed by Major General Chesley Peterson

Schiffer Military History First Edition 2009. 144 pages with lots of excellent photographs and colour plates depicting aircraft nose art and squadron badges
Mint condition book and dustjacket. As new.
The 4th Fighter Group's first pilots came from the 3 original RAF Eagle Squadrons. Men like Chesley Peterson, Don Blakeslee, Don Gentile and Jim Goodson. Transferring to the USAAF in 1942, armed with P-47s then P-51s and aggressive, seasoned pilots, the 4th FG battled the Luftwaffe in the air and on the ground, achieving an impressive score of 1,016 German planes destroyed, the highest score of all Allied Groups.
Instrumental in achieving this record were eighty-one pilots who became aces and men whose stories are the subject of this book. Their accounts go beyond the battles and individual victories to give a glimpse of their original motivations and their subsequent successes, failures, and often violent deaths. The accounts are written by the author, a fellow ace, who lived with them, fought with them, and survived to tell their fascinating stories
Chesley Peterson commanded 71 Squadron aged 21 and was appointed to be the second Commander of the 4th Fighter Group aged only 23 and the youngest colonel in the USAAF. After more than 200 operational sorties, 7 victories and a chestful of medals including the British DSO and DFC, he handed command of the Fourth to Don Blakeslee.
Don Blakeslee took command in early 1944.  He flew more missions and fought the Luftwaffe longer than any other American pilot. He flew more than 1000 hours, over 400 missions and scored more than 15 victories.
A fabulous book in all respects and ideal for mounting additional signatures of the 4th FG Aces.