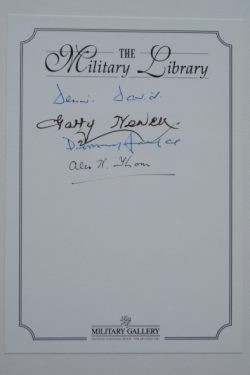 87 Squadron Bookplate
Military Library Bookplate
Signed by Four 87 Squadron Pilots
Military Library Bookplate signed by four 87 Squadron Hurricane Pilots
Dennis David CBE DFC* AFC
Garry Nowell DFM*
'Dimmy' Joyce
Alex Thom
Dennis David flew with 87 Squadron in the Battle for France and the Battle of Britain, becoming an Ace with over 15 victories and winning 2 DFCs in 5 days.
Garry Nowell was Dennis's wingman during the French battles and became a distinguished ace with 10+ victories. 
'Dimmy' Joyce was in the thick of the fighting and was shot down on 14th May subsequently losing a leg to gangrene as he was evacuated through France.
Alex Thom joined 87 Squadron during the last month of the Battle of Britain and stayed with the Squadron into 1941. 
A nicely signed bookplate to add to any 87 Squadron related book or could be matted with a print.