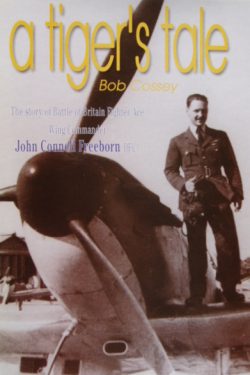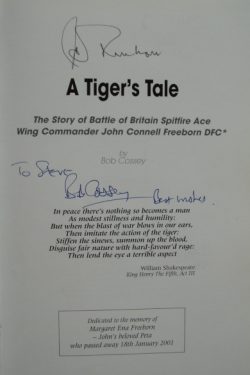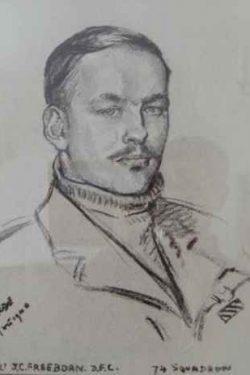 A TIGER'S TALE
The story of Battle of Britain Spitfire Ace Wg Cdr John Freeborn DFC*
Signed by Wing Commander John Freeborn DFC*
Signed on the title page by

the author and
Wing Commander John Freeborn DFC*
Also signed on the front end paper by
Arthur Smith ~ 74 Squadron Battle of Britain pilot
Derek Morris ~ Johnny's Fitter on 74 Squadron, 1939/40
John Gill ~ Rigger, 74 Squadron 1939/40
S Burge & E Webster ~ 74 Squadron Fitters 1939/40
J&KH Publishing First edition 2002.   175 pages with plenty of photographs
Fine condition hardback book and Fine condition unclipped dustjacket. Nearly as new.
Wing Commander John Freeborn DFC* (12 victories) was a pilot on 74 (Tiger) Squadron between 1938-41 and was one of Sailor Malan's Flight Commanders. He also had the distinction of flying more hours than any other RAF pilot during the Battle of Britain. He flew with 602 Squadron, commanded 118 Squadron and then led 286 Wing in Italy before retiring from the RAF in 1946.
A smart signed copy of this Battle of Britain memoir with some neat additional signatures from the book launch.