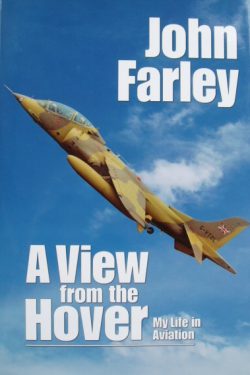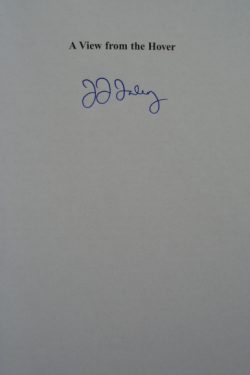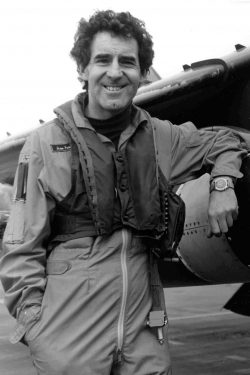 A VIEW from the HOVER
My Life in Aviation
Signed by John Farley
Signed by John Farley on the half title page
Flyer Books First edition 2008.  428 pages and well illustrated with photographs, some in colour.
Very Fine condition hard back book and similar condition dustjacket. As new. 
John Farley was a trained aeronautical engineer and an RAF fighter pilot before attending the Empire Test Pilots' School. In 1964, he was posted to the Aerodynamics Research Flight at RAE Bedford and was introduced to the P.1127.  He joined Hawker Aviation as a company test pilot in 1967 following his service in the RAF, which led to his appointment as the Hawker Deputy Chief Test Pilot in 1971 and BAe Chief Test Pilot in 1978. In this capacity, he began work on the development of the Sea Harrier, and was the first pilot to undertake a take-off with the aid of the ski-jump. During his 19 years with the company he concentrated on the development of the Harrier and Sea Harrier and played a key role in obtaining export orders, in particular to the US Marine Corps.
During his aviation career, Farley flew more than 80 different types of aircraft and was the first western pilot to fly the MiG-29 in 1990. He was a renowned Harrier display pilot, and later an advisor to Lockheed Martin on the F-35 program. For his efforts, Farley received an Air Force Cross, the Queen's Commendation for Valuable Service in the Air in 1970 and he was awarded an OBE. John passed away in 2018 aged 85.
John was one of the world's most respected aviation writers.  His long and varied experience as a test pilot made him a leading authority on a very wide range of piloting and aviation issues. Combining this with an inimitable and very readable writing style and the result was this book which will enthral everyone with an enthusiasm for aeroplanes.  Amusing anecdotes, clear explanations of the intricacies of aerodynamics and test piloting and vivid descriptions of flying experiences in a variety of aircraft, including the Spitfire, make this is a great aviation read.
Despite being published only 12 years ago, this has become a very scarce and collectable book and a flat signed copy is a rarity.