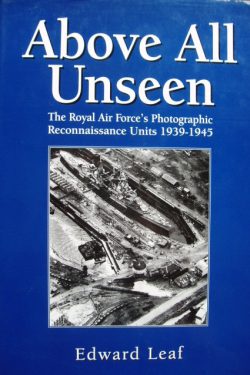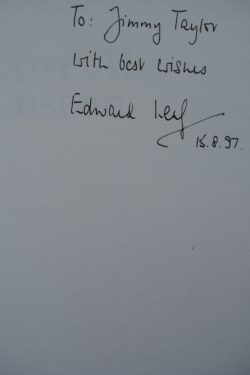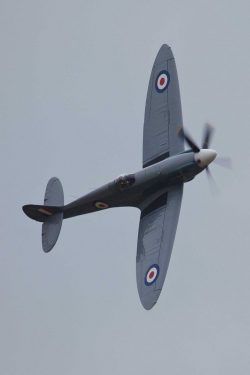 ABOVE ALL UNSEEN
The Royal Air Force's Photographic Reconnaissance Units 1939 -1945
Author's presentation copy
Sold
Presentation copy signed and dated by the author
to WWII Spitfire PRU Pilot, Jimmy Taylor

Patrick Stephens Ltd First edition 1997.  192 pages and, not surprisingly, well illustrated with photos and maps.
Fine Condition hardback book and dustjacket. Clean, tight and bright.
The RAF's Photo Recce Units used a variety of specially modified, unarmed aircraft during WWII to obtain an unprecedented amount of accurate and timely information on the enemy.  This is the story of the personnel, their aircraft and equipment, which flew more than 15000 sorties in all operational theatres of the war.
Also described are the many daring and top secret missions flown by the PRU in support of the Secret Intelligence Service, the SOE, the SAS and the RAF's Special Duty squadrons.  Among the historic operations detailed are the hunt for the Bismarck and the planning for the Dambusters Raid.
The author served as a photographic interpreter during the 1980s and provides a unique insight into one of the RAFs most successful units of the Second World War.
Flt Lt Jimmy Taylor joined the RAF in 1941, received his pilot training in the USA under the Arnold Scheme and instructed American cadets on the Vultee BT-13a from 1942 to 43. He took the PRU OTU course at Dyce and joined 16 Squadron, part of 34 PR Wing in 2nd Tactical Air Force, at Northolt in August 1944, flying blue Spitfire XIs and pink Spitfire IXs. He moved with the Squadron to A12 airstrip in Normandy, then to the airfield at Amiens – Glisy and at the end of September, to Melsbroek airfield outside Brussels. On 19th November, he suffered engine failure over Germany, baled out and landed in a field in Holland. After evading capture for five days he reached the Rhine, but was spotted by an alert German officer and spent the rest of the war in Stalag Luft I on the Baltic. He returned to instructing, on Harvards, until he was demobilized in 1946. Thereafter, he followed a career in education. His copious autobiography 'One Flight Too Many' was published in 2012.
An interesting signed WWII aviation book with a nice relevant association.