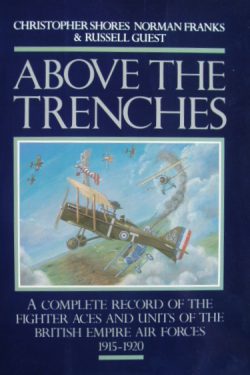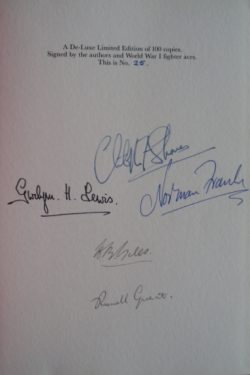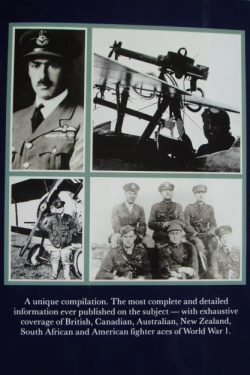 ABOVE the TRENCHES
A Complete Record of the Fighter Aces and Units of the British Empire Air Forces 1915-20
Multi-Signed
Price: Serious Offers invited until 30th June 2018
JUNE     ~    *BOOK OF THE MONTH*
There are some aviation books that are so rare and highly sought after by collectors
from all over the world that it would be unfair to sell such a book on a 'first come' basis. 
Therefore, each calendar month, Spitfire Books is offering a rare book for sale
and invites collectors to submit a 'best offer' during the month by email or telephone
---
De-Luxe Limited Edition 25/100
Signed by the authors and WW1 Fighter Aces
Captain Gwilym H Lewis (32 & 40 Squadrons)




Lieutenant WB 'Twist' Giles (43 & 74 Squadrons)



Grub Street First Edition 1990. 400 pages and well illustrated with photographs.
Fine condition hardback book in special two-tone blue boards and with bright gilt titles on the spine.  Internally it is very tight and clean and feels unread. Fine condition dustjacket.
This is the WW1 equivalent of 'Aces High' and is the most comprehensive book ever written on the aces of the fighting scout units fighting with the British Empire. 
There is a historical background and then a brief history of all the Squadrons and a list of their aces.  The great bulk of the book is devoted to over 800 biographies of individual scout pilots and listings of all their claims and 200 photos of them.
There is a wealth of additional and relevant information and charts indicating the monthly totals of victories claimed and the most successful pilots of each month throughout the war.
This is an epic book in all respects and this limited edition with 2 ace's signatures is particularly scarce, rarely becoming available.  A fabulous addition to any aviation book collection.