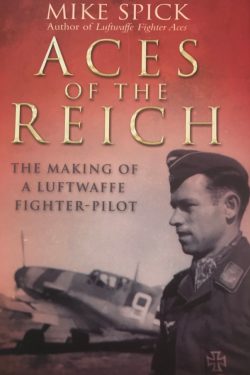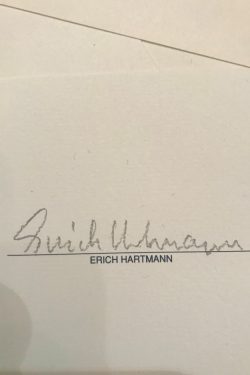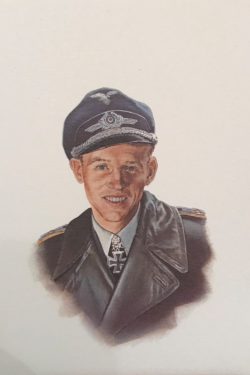 ACES of the REICH
The making of a Luftwaffe fighter pilot
Signed by Erich Hartmann
Bookplate signed by Erich Hartmann in pencil
Greenhill Books, 2006 1st edition.
Mint condition hardback book and dustjacket
With two bookplates tucked into the book of Erich Hartmann the leading fighter Ace from WWII.
Colonel Hartmann has signed the plate in pencil, the second plate is a portrait of Hartmann painted by Jay Ashurst.
In 1939, the Luftwaffe was arguably the world's best-equipped and -trained air force. Its fighters were second to none, and their pilots had a tactical system superior to any other in the world. In campaigns over Poland, Norway, the Low Countries and France, they carried all before them. Only in the summer of 1940 did they fail by a narrow margin in achieving air superiority over England. In the West, with a mere holding force, they maintained an enviable kill-loss ratio against the RAF, while elsewhere they swept through the Balkans, then decimated the numerically formidable Soviet Air Force. Their top scorers set marks in air combat that have never been surpassed.
Yet within three years, and despite the introduction of the jet Me 262, the world's most advanced fighter, the Luftwaffe fighter arm, the Jagdwaffe, had been totally defeated. How did this happen? Air-warfare historian Mike Spick explores the question in depth. His most surprising conclusion is that the motivation of the Jagdwafe was fundamentally flawed. From the failings of High Command to the scores and decorations of individuals, Aces of the Reich is a compelling study of World War II's most fearsome air force and the skilled pilots who flew in it.
Price:  £ 145
This item is listed on ACE
To make an offer or discuss this item with the seller, click HERE
NB. This book is located in Canada so postage cost should be considered.