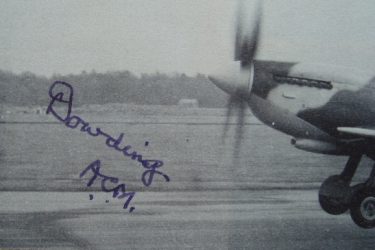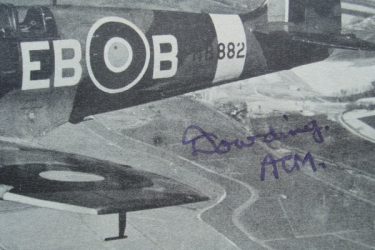 Air Chief Marshal Sir Hugh Dowding
Two Spitfire pictures
Signed by Air Chief Marshal Lord Dowding
Sold
JULY     ~    *SIGNATURE OF THE MONTH*
There are some aviation signatures that are very sought after by collectors
from all over the world, from pioneer pilots and designers to aces and astronauts. 
Therefore, each calendar month, Spitfire Books is offering an interesting signature for sale
and invites collectors to submit a 'best offer' during the month by email or telephone
---
Two Spitfire pictures, each signed by
Air Chief Marshal Hugh Dowding, 1st Baron Dowding, GCB, GCVO, CMG
Two Spitfire pictures, each measuring approx. 8 x 4 inches, each clearly signed in blue ink by Lord Dowding. 
The pictures are mounted on a home-made board with a newspaper clipped portrait of Dowding.  On the reverse is a hand-written biography of Dowding signed by the person who made it.  He also writes "Lord Dowding sent me this photograph back signed on September 5th 1960".
Air Chief Marshal Hugh Dowding, 1st Baron Dowding, GCB, GCVO, CMG (24 April 1882 – 15 February 1970) served as a fighter pilot and then as commanding officer of No. 16 Squadron during the First World War. During the inter-war years he became Air Officer Commanding Fighting Area, Air Defence of Great Britain and then joined the Air Council as Air Member for Supply and Research. He was Commander-in-Chief of RAF Fighter Command during the Battle of Britain.
ACM Dowding's leadership was critical to victory during the Battle of Britain. Dowding was a determined leader, which brought him into conflict with peers and superiors. He strongly argued that Fighter Command's role was to protect Britain, and he challenged the use of the RAF's valuable resources to protect France, famously writing to the Air Ministry in May 1940: "If the Home Defence Force is drained away in desperate attempts to remedy the situation in France, defeat in France will involve the final, complete and irremediable defeat of this country."
During the 1930s in preparation for war, Dowding oversaw two developments which would become vital to victory during the Battle of Britain. He supported the development of fast fighter aircraft – the Spitfire and Hurricane – and provided funding for the first experimental radar (then known as RDF) stations on the coast.  At RAF Bentley Priory, ACM Dowding oversaw the development and implementation of the world's first integrated system of air defence, which became known as 'The Dowding System'.
A pair of scarce Dowding signatures that could be used for a variety of purposes.
Click picture to view the gallery…..