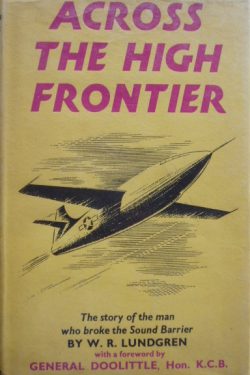 ACROSS the HIGH FRONTIER
The story of the man who broke the Sound Barrier
70th Anniversary 14th October 2017
Victor Gollancz First British edition 1956.    240 pages and well illustrated with photographs
Near Fine condition hardback book. Clean, tight and bright.  Near Fine condition dustjacket. A great copy of this scarce book
Charles Elwood "Chuck" Yeager was the first pilot to travel faster than sound in 1947 piloting the Bell X-1. He was also a WW2 Mustang ace who was shot down, evaded capture and returned to fight again, shooting down an Me262.
This book is more than Yeager's biography.  It is the story of the men who conceived the Bell X-1 research aeroplane and the story of men of courage and resourcefulness who looked beyond the horizons of their day and made history.'
A scarce and very readable account of the effort to break the Sound Barrier and it is still exciting after 70 years.
This book is listed on ACE. 
Please contact Spitfire Books to purchase or for more information