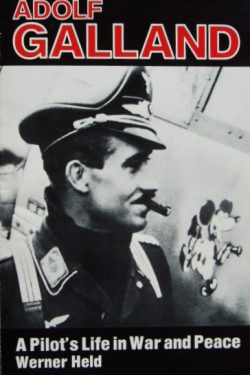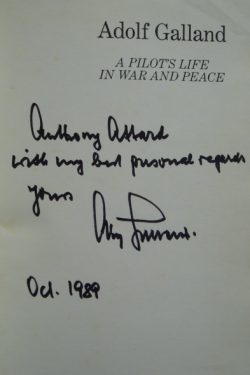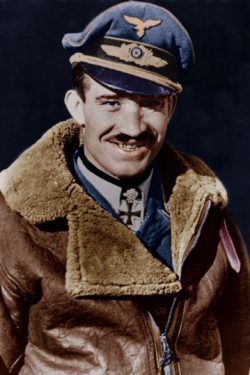 ADOLF GALLAND
A Pilot's Life in War & Peace
Signed by General Adolf Galland KC
Inscribed, signed and dated on the half title page by
General Adolf Galland

Champlin Museum Press edition 1986. 198 pages and well illustrated with photographs from Galland's personal collection covering all stages of his life.
A Fine condition card cover book. Clean, bright and tight – a great copy.
This was the first of a number of biographies of Adolf Galland, an outstanding German fighter leader whose name was linked to a reputation for fairness and chivalry.  In his foreword, friend and former adversary Douglas Bader writes: 'This book provides an accurate and splendid record of Adolf Galland, who in my opinion, was Germany's greatest fighter pilot and leader in WWII….. It is a fine book and should be in the library of every aviation enthusiast….The true fighting man bears no animosity towards his opponent, in whom he recognises the same attitude of mind as his own.  When such men meet subsequently, it is understandable that they will become friends.'
Galland's combat career began in the Spanish Civil War flying bi-planes and continued from the Polish campaign of 1939 right through to the defeat of Germany in 1945, when he was flying Messerschmitt 262 jet fighters. From the outbreak of hostilities Galland rose quickly in rank and influence, becoming chief of Luftwaffe fighters, a position he lost as a result of difference with Hitler. He then returned to front line flying and ended the war with shrapnel in his knee, his country in ruins and years of POW confinement and interrogation.  After release, he created a jet fighter force for Argentina, became a successful businessman and a goodwill ambassador for Germany's fighter pilots, becoming close friends with many of his former adversaries as numerous photos in this book show.
A nicely signed, largely pictorial record of Galland's fascinating life.