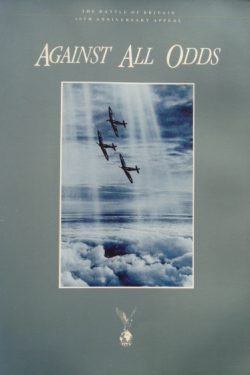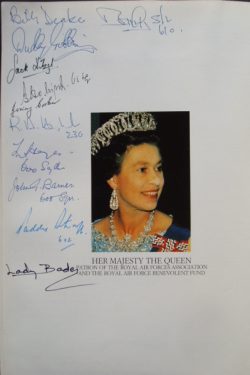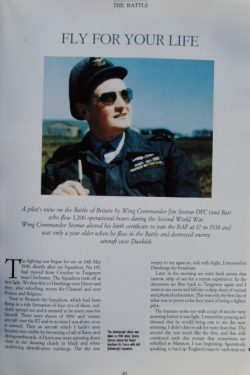 AGAINST all ODDS
Battle of Britain 50th Anniversary
Multi-Signed by Battle of Britain Pilots
Signed by Lady Bader and 10 of 'The Few'
Billy Drake ~ Cyril Bamberger ~ Dudley Gibbins
Jack Ditzel ~ Boleslaw Drobinski ~ Jimmy Corbin
Robert Haylock ~ Tom Hayes ~ John Barnes ~ Paddy Barthropp
Published by Royal Air Force Association 1990.  370 pages. Very well illustrated with photographs and adverts, many in colour. The consultant editor was Battle of Britain veteran Wing Commander Peter Parrott and the book contains the never previously published recollections of Wing Commander Jas Storrar DFC*.
Near Fine condition A4 size softcover book. Clean, bright and tight.  A super copy despite being over 30 years old.
Published to raise money for the 'Reaching For The Sky' 50th Anniversary Battle of Britain Appeal in 1990, this impressive and weighty publication is a tribute to The Few and to the Many that supported them.  It tells the story of the Battle from a variety of viewpoints and reflects the experiences of aircrew, ground crew and those who served in a supporting role. Articles cover such diverse topics as pilot's recollections, fighter evolution, Bomber & Coastal Command contributions, radar, the Blitz, ground crews, factories, ATA, Women in uniform and at home, the Allied forces, modern day perspectives and developments and finally the recollections of various celebrities who served with the RAF during the war.
A very readable Battle of Britain book with plenty of interesting information and insight enhanced by a neat collection of signatures.