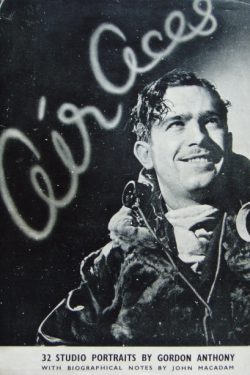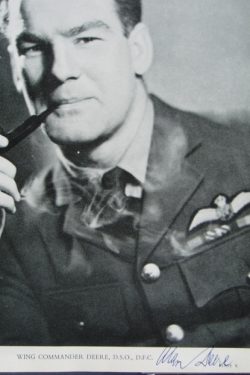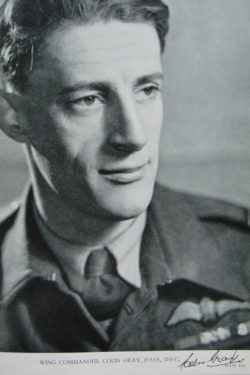 AIR ACES
32 Studio Portraits by Gordon Anthony
12 Signed Portraits
Sold
Signed on their own photographic plates by
Roland Beamont
Harry Broadhurst
Leonard Cheshire VC
Kenneth Cross
John Cunningham
Bunny Currant
Alan Deere
Colin Gray
Johnnie Johnson
Rod Learoyd VC
Laddie Lucas
Hamish Mahaddie
John Peel
Home & Van Thal Ltd First edition, 1944. The book is quarto (25 x 19cm) with 38 pages of text and 32 plates.
This is a Very Good condition copy and the iconic photographic plates are in fine condition. The book has its original and scarce dustjacket which is nearly complete with a small amount of loss at the top of the spine and some repaired tears. The book has a quality reproduction dustjacket in addition to the original which makes it look very smart.
Following the same format as Cuthbert Orde's famous book 'Pilots of Fighter Command', this publication features a collection of marvellous full page photographic portraits of RAF fighter and bomber pilots. Amongst the 32 portraits are many of the famous names; Beamont, Bennett, Braham, Broadhurst, Cheshire, Crawford-Compton, Cross, Cunningham, Currant, Deere, Donaldson, Gibson, Gillam, Gilroy, Gordon-Finlayson, Gray, Harries, Jameson, Johnson, Kingaby, Learoyd, Lucas, Mahaddie, Malan, Peel, Rankin, Raphael, Rawnsley, Straight, Walker, Wells, Wykeham – missing are those who had been made POW or killed at that point in the war.  The accompanying biographical notes written by John MacAdam give a superb contemporary insight into the characters of these men.
A great collection of signed photographs in an iconic book.
Please enter the gallery to see pictures of some of signed photographic plates: