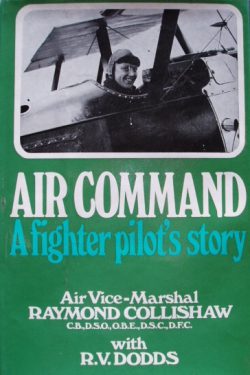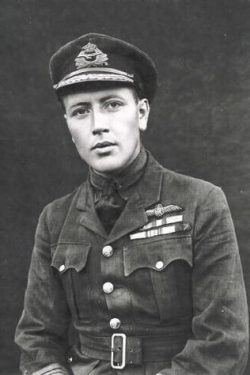 AIR COMMAND
A World War One Fighter Pilot's Story
William Kimber First edition 1973.  256 pages and well-illustrated with photographs.
Fine condition hardback book in a Fine condition unclipped dustjacket.  A superb example of this scarce book. 
The autobiography of Air Vice Marshal Raymond Collishaw (1893 – 1976) who was a distinguished Canadian fighter pilot, squadron leader, and commanding officer who served in the Royal Naval Air Service and later the Royal Air Force. He was noted as a great leader in the air.
He was the highest scoring RNAS flying ace and the THIRD highest scoring Allied pilot of the First World War with 59 victories.
As a Senior Officer in the RAF during the Second World War, he commanded No. 204 Group (which later became the Desert Air Force) in North Africa.
THE BLACK FLIGHT
Posted to No.10 Naval Squadron as a Flight Commander in 1917, Collishaw's "B" Flight was composed entirely of Canadians. Collishaw's flight painted their Sopwith Triplanes black, and called themselves 'The Black Flight'. The aircraft were christened with suitable names. Ellis Reid, of Toronto, flew Black Roger; J. E. Sharman, of Winnipeg, flew Black Death; Gerry Nash, of Hamilton, called his machine Black Sheep; and William Alexander, of Toronto, christened his plane the Black Prince. The flight commander, Collishaw, flew a machine which gloried in the name Black Maria.
During their first two months they claimed a record 87 German aircraft destroyed or driven down – which, strangely enough, brought Collishaw and the unit no wide publicity. Collishaw later claimed that this was because officials in the regular Royal Flying Corps were loathe to give credit to naval pilots. He was the first Commonwealth pilot to claim six victories in one day (6 July 1917).
"A man who flew with him claimed that he would often "give" a victory to a new, green pilot, just to bolster his confidence. The new pilot would be taken out by the renowned Collishaw to "bag one". Anxiously following the leader, he would find himself diving on the tail of a German reconnaissance plane. Trying to control the machine, so that the nose would stay still, he would find his gunsight wobbling all over the sky. He would press the firing button, spraying bullets like a lawn sprinkler. Then suddenly Collishaw would appear alongside; there would be a short, deadly burst, and the new pilot would turn sick as he saw the enemy plane catch fire and plunge to earth. He would fly back to the aerodrome, where the flight commander would clap him heartily on the shoulder and insist "You got one! Grand show, old boy!" The new pilot, unable to speak, would nod timidly, and thereafter he would fly into battle with Collishaw anywhere. That was – according to the story – part of Collishaw's great quality of leadership."  John Harris, 'Knights of the Air: Canadian Aces of World War I'. 1958.
A scarce Kimber World War One book for any aviation library.