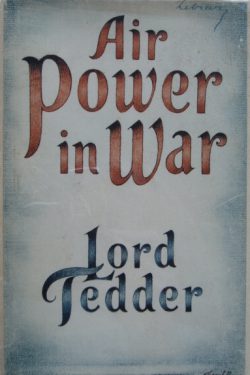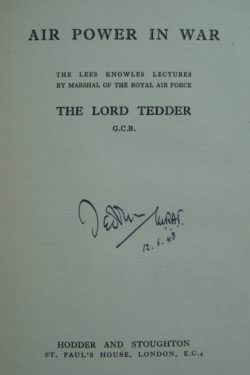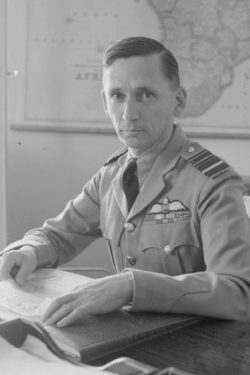 AIR POWER in WAR
If you wish for peace, understand war
Signed by MRAF Lord Tedder
Sold
Signed and dated by Lord Tedder on the title page
'Tedder
MRAF 12.6.48′ 
Hodder & Stoughton First Edition 1948.   124 pages and illustrated with charts, some in colour.
Fine condition hardback book and dustjacket which looks smart in its protective cover. A super copy of this authoritative book.
Lord Tedder (1890-1967) was a WWI fighter pilot who was promoted to command his first squadron barely six months after gaining his wings. His promotions and commands continued and by the start of WWII he was an Air-Vice Marshal.  His career in WWII as C-in-C Middle East and Deputy Supreme Commander in the invasion of Normandy marked him out as a highly successful and effective Commander and he succeeded Portal as Chief of the Air Staff in 1946.
In 1947, MRAF Lord Tedder gave the Lees Knowles Lectures in Military Science at Cambridge University.  This was the first time that the lectures were given by a member of the Royal Air Force and those four lectures comprise this book.  Tedder said "I have tried to set out as objectively and factually as possible some of the effects of the impact of Air Power on the course of WWII.  I am utterly convinced that the outstanding and vital lesson of the last war is that Air Power is the dominant factor in this modern world and that though the methods of exercising it will change, it will remain the dominant factor so long as power determines the fate of nations".
There was no better qualified person to write on this vital security subject as Tedder had become famous as Air Commander in Chief in the Middle East right up to the triumph at Tunis and the successful landings in Italy, and thereafter as Deputy Supreme Commander with General Eisenhower.  He had seen the problems at first hand from many angles and shouldered the heaviest responsibilities.  He put his points clearly and fearlessly and his opinion was both interesting and important in the immediate post war world.
A lovely copy of an important and scarce book signed by one of the greatest Commanders of the RAF.