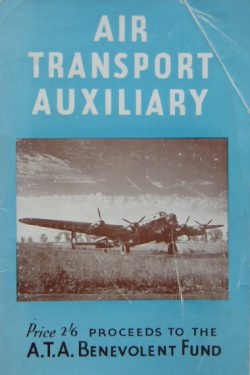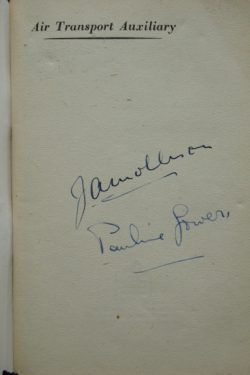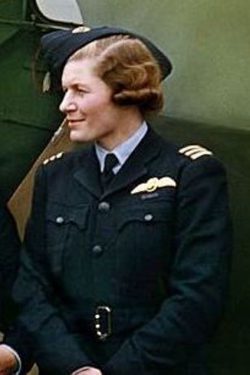 AIR TRANSPORT AUXILIARY
Signed by James Mollison & Pauline Gower
Sold
JULY     ~    *BOOK OF THE MONTH*
There are some aviation books that are so rare and highly sought after by collectors
from all over the world that it would be unfair to sell such a book on a 'first come' basis. 
Therefore, each calendar month, Spitfire Books is offering a rare book for sale
and invites collectors to submit a 'best offer' during the month by email or telephone
---
A very rare fundraising booklet published by the ATA in 1945
Signed by
Jim Mollison ~ Record breaking Playboy of the Air
Pauline Gower ~ Pioneering leader of the Spitfire Women
Published by Air Transport Auxiliary, White Waltham.  First edition circa 1945. 72 pages and illustrated with numerous humorous cartoons.
Very Good condition card cover near A5 size booket with some creases to the front and rear covers but is otherwise very clean and secure and in remarkable condition for its age.
In the Foreword, Gerard d'Erlanger, CO of the ATA writes: 'This handbook has been prepared not so much with a view to providing a history of the ATA but rather to give a comprehensive yet brief insight into its structure and the methods we have developed and adopted to carry out the part allotted to us in this war.  It is primarily for the benefit of all members and sections of ATA ……The entire proceeds arising from the sale will accrue to the ATA Benevolent Fund …….. I would also wish to thank in particular our Director of Women Personnel, Miss Pauline Gower MBE who is responsible for compiling and editing…..'
---
Jim Mollison (1905-1959)
Jim Mollison became a legend in his own lifetime and he was one of the most glamorous and famous men of the 1930s.  After a short RAF career, he flew in Australia before seeking fame and fortune with his long distance solo flights during the golden age of aviation.  For sheer bravery and unrelenting determination in the air he was without peer.  Not only was he the first person to complete a successful trans-Sahara flight from the UK to the Cape alone but he also had the distinction of being the first person to solo both North and South Atlantic oceans. His marriage to the equally famous Amy Johnson and their subsequent flying partnership in the Thirties aroused the type of frenzied adulation which was normally reserved for British Royalty.
His flying achievements were only surpassed by his not-so-private life with numerous affairs and his playboy persona and hard drinking were headline news.  His book 'Playboy of the Air' was an early 'kiss and tell' memoir which nowadays might seem fairly innocuous but at the time it was shocking and finished his marriage to Amy. Both Amy Johnson and Mollison served in the ATA  in World War II. Johnson was killed while ferrying an aircraft in 1941. A notable incident occurred when Mollison flew as a co-pilot with Diana Barnato Walker. Their Anson was intercepted and shot up by Luftwaffe fighters. Although the aircraft was hit, the 12 passengers and crew were unhurt. On landing, Mollison's only concern was "how to get a cup of tea!" In June 1941 Mollison and an ATA crew delivered Cunliffe-Owen OA-1 G-AFMB to Fort Lamy, Chad. The aircraft was fitted out as a personal transport for General De Gaulle. Jim Mollison was awarded an MBE for his services with the ATA but after the war succumbed to alcoholism and died in 1959. 
---
Pauline Gower (1910-1947)
Pauline Gower MBE was the pioneering leader of the Spitfire women during the Second World War. Gaining her pilot's licence at just 20, she set up the first female joyriding business in 1931 with engineer Dorothy Spicer and took 33,000 passengers up for a whirl, clocking up more than 2,000 hours. At the outbreak of WWII, despite being met with considerable resistance against women pilots, Gower successfully argued for the need for a women's branch of the ATA becoming its first Commander in December 1939 and, in early 1940, revealed the first eight female pilots she had chosen. She enabled them to fly 'Anything to Anywhere', including Hurricanes, Wellingtons and their favourite, the Spitfire. 
In 1943, Gower was appointed to the British Overseas Airways Corporation. This marked the first time a woman had served on the board of a state airline in the UK and, possibly, in the wider world. Here, in addition to her war work, she acted as an advisor to the Air Ministry on the comfort and psychology of women air travellers.  Determined, diplomatic and always fair, Pauline was a clear leader of her time. She died after giving birth, at only 36; a life cut short but one of significant achievements, leaving a lasting legacy for women in aviation. W.E. Johns, a former pilot and author, based his character 'Worrals' on Gower. She is remembered as a pioneering aviator and a new biography of her is due to be published in September.
An exceptionally rare book on the Air Transport Auxiliary considerably enhanced with the very collectable signatures of two of the most famous ATA pilots.