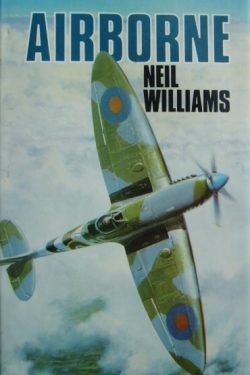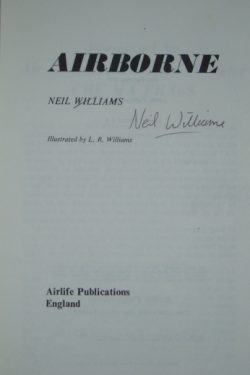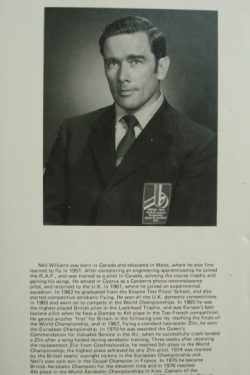 AIRBORNE
By Neil Williams
Signed by Neil Williams
Signed by Neil Williams on the title page

Airlife First edition 1977.  175 pages and illustrated by Neil's wife
Very Good condition hardback book in a Very Good condition dustjacket.  
This is a book of flying stories, but with a difference. All of these stories are true, covering the experiences of the author as a fighter, test, demonstration, airshow, film, jet charter, and champion aerobatic pilot. The stories include aircraft from the early flying machines to modern military and civil jets.
Read of the exultation of first solos in a Spitfire and a Mosquito, the desolation of being lost over the Indian ocean at night short of fuel in a jet bomber, the humour of receiving a parking ticket after a forced landing, the shattering experience of crashing an airplane in front of a crowd of 80,000 people, and the now legendary story of how the author landed his Zlin after a wing folded in flight, which gained him the Queen's Commendation for Valuable Service in the Air.
A wide and exciting variety of aircraft are covered including the Spitfire, Mosquito, Sopwith Pup, Hunter, Scimitar, Meteor, Yak, Heinkel and Falcon. The magic of flight is here to be shared; the tranquility, the excitement, the terror, the humour, and the adventure.
This book was published just before Neil's untimely death when he crashed in a Spanish-built Heinkel He111 that he was ferrying from Madrid to the UK. Neil Williams
A great book of flying adventures and scarce signed.