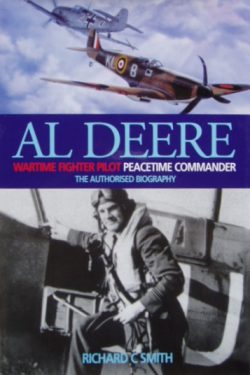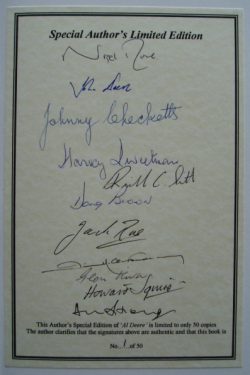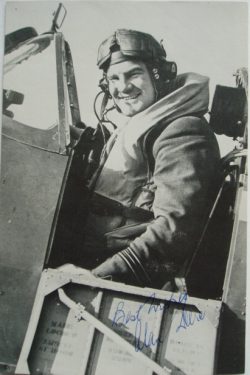 AL DEERE ~ Special Author's Edition
Wartime Fighter Pilot ~ Peacetime Commander
Limited Edition Multi-signed Bookplate
Price: Serious offers invited until 31st March 2023
MARCH     ~    *BOOK OF THE MONTH*
There are some aviation books that are so rare and highly sought after by collectors
from all over the world that it would be unfair to sell such a book on a 'first come' basis. 
Therefore, each calendar month, Spitfire Books is offering a rare book for sale
and invites collectors to submit a 'best offer' during the month by email or telephone
---
The authorised biography of Air Cdre

Alan Deere DSO OBE DFC* AFC
This Special Author's Edition (No 1 of 50) has been signed by:
Wing Commander Johnny Checketts DSO DFC ~ 611 & 485 Squadrons
Squadron Leader Douglas Brown ~ 485 Squadron
Flight Lieutenant Pierre Clostermann DFC ~ 341 FF Squadron
Flying Officer Glen Niven ~  602 Squadron
Flight Lieutenant Jack Rae DFC ~ 485 Squadron
Squadron Leader Nigel Rose ~  602 & 54 Squadrons
Flying Officer Howard Squire  ~ 54 Squadron
Air Commodore David Strong CB AFC ~  104 Squadron
Squadron Leader Harvey Sweetman DFC  ~ 485 Squadron
Mr John Deere  (Alan Deere's son)
Mr Richard Smith (Author)
With the book is a photo signed 'Best Wishes Alan Deere' in blue ink
Grub Street First Edition 2003.    224 pages and lots of photos.
Mint condition hardback book and dustjacket. As new.
After having joined the RAF in 1937, New Zealander Al Deere was in the thick of action right from the start of the war, serving with great distinction over France and Dunkirk in May and June of 1940. After surviving a crash-landing during a head-on attack he helped defend London and the south-east during the Battle of Britain effecting numerous escapes in tight combat situations.
He went on, variously, to command a flight in 602 Squadron, to lecture in America, to command the Kenley and Biggin Hill Wings and then to lead 145 French Wing in France before becoming Wing Commander Plans with 84 Group. Post-war saw him take up many more significant postings including Station Commander of North Weald, and Aide de Camp to HM the Queen. If it could be said that he 'had a good war',  he enjoyed an even better peace.
Richard Smith had the full co-operation of family, friends and colleagues in researching the source material to write the biography of this fascinating and exceptional man. The book also includes many of Deere's letters and papers on the tactics and strategy of combat, and his hitherto unpublished story entitled 'Escape' based on the exploits of his friend Johnny Checketts who also contributed the foreword to this book.
A nice posthumous biography of one of the most famous Battle of Britain pilots which complements his own classic book 'Nine Lives'.  Plus a great set of signatures including Checketts and Clostermann which are both hard to find in books and an excellent signed photo. Plus the fact that this is No 1 of the Special Author's Edition which makes this altogether a very collectable volume.