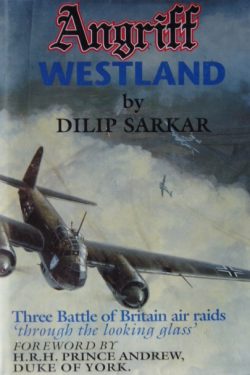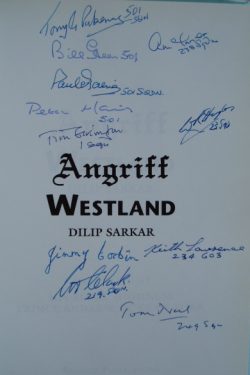 ANGRIFF WESTLAND
Three Battle of Britain Air Raids
Multi-Signed by Battle of Britain Pilots
Multi-signed by Battle of Britain pilots

Ramrod Publications First Edition 1994.  188 pages including  lots of photos.
Fine condition hardback book and dustjacket. Clean, bright and tight. A pleasing copy
A detailed account of 3 Luftwaffe operations against targets in the west of England during the Battle of Britain.  Meticulously researched and presented, the book offers insights into the Luftwaffe and RAF from historical records and from the words of people who took part.
Signed by 11 Battle of Britain Pilots
Tony Pickering – 501 Sqn
Bill Green – 501 Sqn
Archie McInnes – 238 Sqn
Paul Farnes – 501 Sqn
Peter Hairs – 501 Sqn
Tim Elkington  – 1 Sqn
WR Hughes – 23 Sqn
Jimmy Corbin – 66 Sqn
Keith Lawrence – 234 Sqn
Terry Clark – 219 Sqn
Tom Neil – 249 Sqn
A well researched book with a neat collection of Battle of Britain signatures .