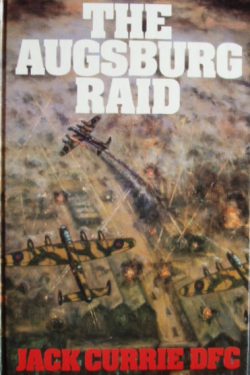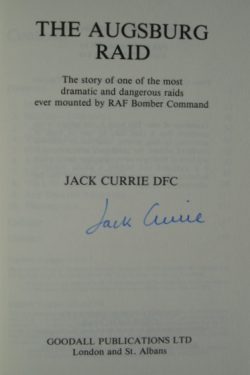 The AUGSBURG RAID
One of Bomber Command's most dramatic and dangerous raids of WWII
Signed by Squadron Leader Jack Currie DFC
Sold
Goodall First edition 1987.    144 pages and well illustrated with photographs and documents.
Mint condition hardback book with laminated covers, as published. As new.
The Augsburg Raid was one of RAF Bomber Command's most daring attacks of World War II. Twelve Lancasters, six from No. 44 (Rhodesia) Squadron based at Waddington and six from No. 97 (Straits Settlements) Squadron, based at Woodhall Spa, were ordered to carry out a low-level raid on the M.A.N. diesel engine factory at Augsburg in Southern Bavaria. This round trip of 1000 miles took place on 17th April 1942, a long and arduous flight hedge-hopping over enemy territory at 50ft. Four Lancasters were shot down en route, three were lost over the target and only five returned safely to base. No fewer than 37 aircrew were lost, 12 became POW's and 36 returned. A VC was awarded to Squadron Leader John Nettleton.
This is the definitive work on the raid. The author, himself a former Bomber Command Lancaster pilot, reveals important new information and examines the enigmas which continue to obscure the facts about this extraordinary operation.
This is a very readable account of a daring low level daylight attack using the Lancaster which had only just entered operational service and took place a full year before the Dambusters operation. A scarce signed book.