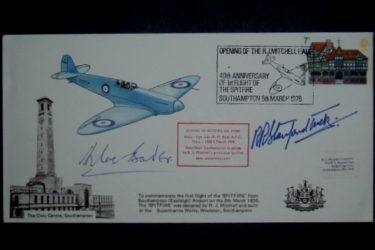 BADER & TUCK
Spitfire 40th Anniversary Cover 1976
Spitfire flown Cover 1/167 signed by Sir Douglas Bader & Bob Stanford Tuck
Price: Serious offers invited until 30th November 2018
NOVEMBER    ~    *SIGNATURE OF THE MONTH*
There are some aviation signatures that are very sought after by collectors
from all over the world, from pioneer pilots and designers to aces and astronauts. 
Therefore, each calendar month, Spitfire Books is offering an interesting signature for sale
and invites collectors to submit a 'best offer' during the month by email or telephone
---
Group Captain Sir Douglas Bader CBE DSO DFC
(1910-1982)
Wing Commander Bob Stanford Tuck DSO DFC**
(1916-1987)

Two of the most famous Battle of Britain fighter aces together on a cover to commemorate the 40th anniversary of the first flight of the Spitfire. 
This is cover no.1 in the limited issue which was flown in Spitfire IIa P7350 on 5th March 1976, over Southampton, exactly 40 years after K5054 first took to the sky.
 A really nice, scarce signed cover