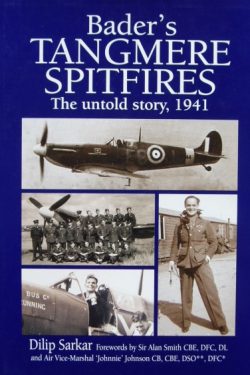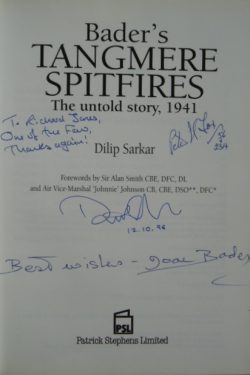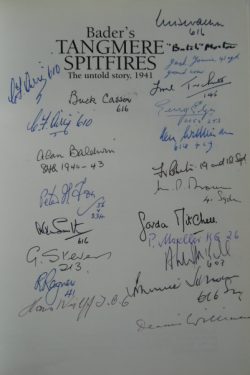 BADER's TANGMERE SPITFIRES
The Untold Story, 1941
From the Library of One of The Few
Sold
Presentation copy from the author to Battle of Britain Pilot
Richard Jones ~ 64 & 19 Squadrons 1940
To Richard Jones
One of The Few
Thanks again!
Dilip Sarkar
12.10.96
Multi-signed at the Book Launch in October 1996
PSL First edition 1996.  207 pages and lots of photos.
Fine condition hardback book in blue covers. Clean, tight and bright. Fine condition, unclipped dustjacket. A very smart copy.  Besides being dedicated to Richard Jones on the title page, Jones has printed his name on the inside of the front cover and boldly signed the front end paper 'R.L. Jones, 64 & 19 Spitfire Sqdns 1940'.
A detailed account of operations conducted by Douglas Bader's legendary Tangmere Wing up until the day he was shot down in August 1941. It examines the mystery of his downing and also tells the story of other Spitfire pilots who flew with the Wing, many of whom attended the launch and signed this book.
Signed on the half title and title pages page by
Bader's two wingmen
AVM Johnnie Johnson CB CBE DSO**DFC* who wrote a foreword. 616 Sqn (BoB)
Sir Alan Smith CBE DFC DL who wrote a foreword. 616 Sqn
Spitfire Pilots; many of whom flew with the Wing
Sir Archie Winskill 41 Sqn (BoB)
Gerry Edge 605 Sqn (BoB)
Ron Rayner 41 Sqn
Geoffrey Stevens 213 Sqn (BoB)
Peter Brown 41 Sqn (BoB)
William Walker 616 Sqn (BoB)
Peter Fox 56 Sqn (BoB)
Buck Casson 616 Sqn (BoB)
Ken Wilkinson 616 Sqn (BoB)
Fred Twitchett 145 Sqn (BoB)
Butch Morton 616 Sqn
Plus
Lady Joan Bader
Dr Gordon Mitchell
Peter Moeller ~ KG26 Luftwaffe
Hans Wulff ~ JG6 Luftwaffe
Harold Clowes  ~ Link trainer instructor RAF Tangmere
Jack Younie ~ 41 Sqn groundcrew
Alan Baldwin ~ SHQ RAF Tangmere
Fred Roberts ~ 19 Sqn groundcrew
Cliff Airey ~ 610 Sqn groundcrew
A superb condition copy of a well researched book which belonged to one of 'The Few' complete with some very collectable Battle of Britain signatures.