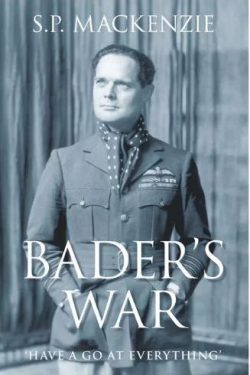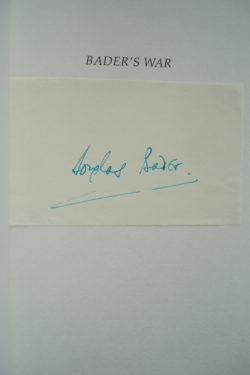 BADER'S WAR
'Have a go at Everything'
Signed by Douglas Bader
Laid in paper signed by Douglas Bader
Spellmount First edition 2008.  192 pages and well-illustrated with photos.
A Very Fine condition hardback book in black boards with gilt titles. The unclipped dustjacket is also in Fine condition.  This is an exceptionally good, clean copy of this book which feels practically new and unread. The signed paper is not attached to the book.
Forty years after his death, Douglas Bader remains Britain's most famous fighter pilot. A charitable foundation, scholarships, schools, streets and even pubs have been named after him. He remains a potent symbol of human triumph over adversity, has been the subject of numerous books and documentaries, and his name continues to resonate in the public imagination.
This book makes use of new memoirs, interviews and documents as well as older sources to shed light on various aspects of Bader's character and episodes in his career to provide a rounded and unbiased portrayal of this fascinating man.
A very well researched and readable biography with a lovely, clear, older Bader signature that could be put to a variety of uses.