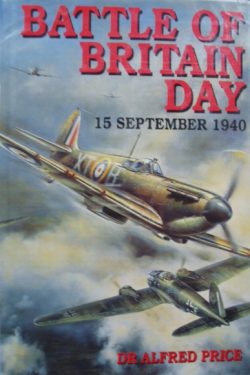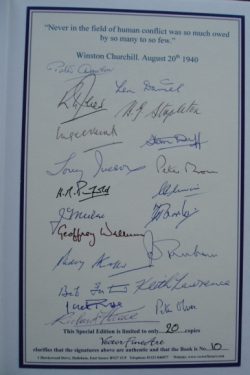 BATTLE of BRITAIN DAY
15 September 1940
Multi-signed
Limited Edition Bookplate Signed by 20 Battle of Britain Aircrew

 Peter Dawbarn, 'Stapme' Stapleton, Geoffrey Wellum, 'Grumpy' Unwin
Peter Olver, Bob Foster, Fred Barker, Tony Iveson
Len Davies, Jack Rose, Keith Lawrence
HM Pinfold, Paddy Barthropp, Richard Jones
John Milne, Richard Haine, John Freeborn,
Peter Brown, Nigel Kemp, Stan Duff
Greenhill Books edition 1999.  180 pages including useful appendices detailing RAF and Luftwaffe Orders of Battle and combat losses. Well illustrated with black and white photographs.
Fine condition hardback book with a similar condition dustjacket in a blue slipcase.  As new.
A sequel to his earlier book 'The Hardest Day', this book focuses on the events of 15 September 1940 – commemorated each year since as 'Battle of Britain Day' – the Luftwaffe mounted two huge daylight raids on London.  Dr Alfred Price's definitive book, based on interviews with nearly 70 people involved as well as official records, is the only full-scale work on the events of this pivotal day.
A neat collection of Battle of Britain signatures in a relevant book.