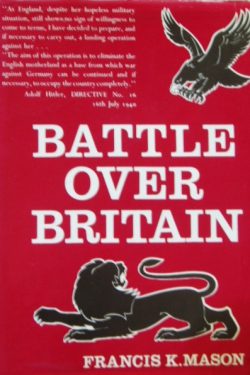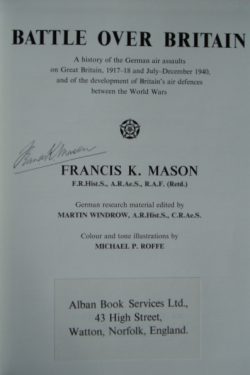 BATTLE over BRITAIN
By Francis K Mason
Signed by Francis K Mason
Signed by Francis Mason on the title page
McWhirter Twins Ltd. First edition 1969. 636 pages and very well illustrated with photos, maps and colour plates.
Fine condition hardback book in maroon boards with gilt embossed titles and eagle/lion designs.  Near Fine condition unclipped dustjacket. A very clean, tight and bright copy. 
This definitive book describes, in unprecedented detail, the sequence of events which led up to and constituted the Battle of Britain. The story is told through the unfolding events as they occurred on a daily diary basis, with actions, participants and victories/losses all researched and documented.
This is the first edition of a book which has rightly become a standard reference and an absolute treasure trove of information on the Battle of Britain.