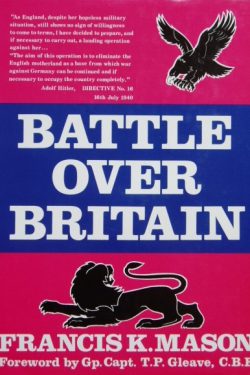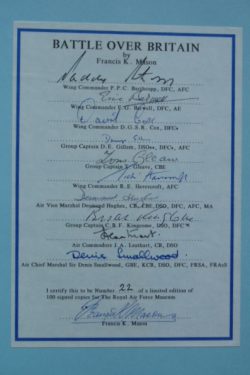 BATTLE over BRITAIN
By Francis K Mason
Multi-signed
Limited Edition Bookplate 22/100 signed by 10 Battle of Britain Pilots

Wg Cdr Paddy Barthropp DFC AFC
Wg Cdr Eric Barwell DFC AE
Wg Cdr David Cox DFC*
Gp Capt Denys Gillam DSO** DFC* AFC
Gp Capt Tom Gleave CBE
Wg Cdr Tich Havercroft AFC
AVM Desmond Hughes CB CBE DSO DFC AFC
Gp Capt Brian Kingcome DSO DFC*
Air Cdre James Leathart CB DSO
ACM Dennis Smallwood GBE KCB DSO DFC
Aston Publications Ltd. Revised edition 1990.  539 pages and crammed with photographs, diagrams and tables
Fine condition hardback book in brown boards with gilt embossed titles.  Fine condition dustjacket in protective cover. 
This definitive book describes in unprecedented detail the sequence of events which led up to and constituted the Battle of Britain. The story is told through the unfolding events as they occurred on a daily diary basis, with actions, participants and victories/losses all researched and documented. This book is the standard reference on the Battle of Britain and is  an absolute treasure trove of information.
An essential volume for any Battle of Britain library and this is an excellent collectable copy enhanced with 10 very distinguished signatures.