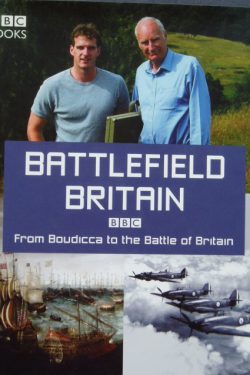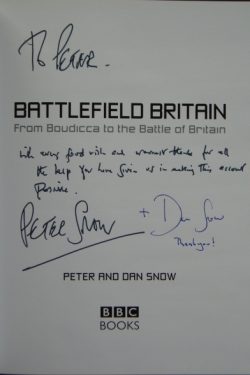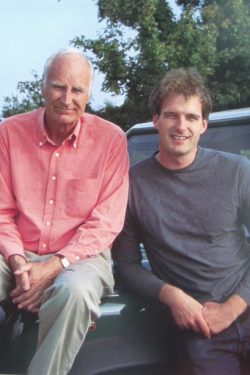 BATTLEFIELD BRITAIN
From Boudicca to the Battle of Britain
Presentation to Air Cdre Pete Brothers
Presentation inscription from the authors to Air Cdre Peter Brothers
who assisted with the chapter on the Battle of Britain
'To Peter – with every good wish and warmest thanks for all the help




you have given us in making this account possible.




Peter Snow + Dan Snow (Thank you!)'
BBC Books First edition 2004.    224 pages with hundreds of illustrations in colour and b/w – photos, graphics, charts, & maps.
Fine condition hard back book and dustjacket. Clean, tight and bright.  An excellent copy which was acquired along with many other books from Pete Brother's library at an auction in 2010.
In this book, Peter and Dan Snow tell the story of eight decisive battles that have done much to shape the Britain that we know today; Boudicca's Battle with Rome AD 60-1, The Battle of Hastings 1066, The Battle for Wales 1400-1410, The Spanish Armada 1588, The Battle of Naseby 1645, The Battle of the Boyne 1690, The Battle of Culloden 1746 & The Battle of Britain 1940. In addition to explaining the battleplans of the great military commanders, they explore what it was like to be an ordinary soldier on the front line in the thick of the fighting. 
Spanning nearly 2000 years of British history, this book takes us into the heat of each battle as it unfolds to bring alive Britain's turbulent past.
A great book for the armchair military historian at this time of another national battle …..