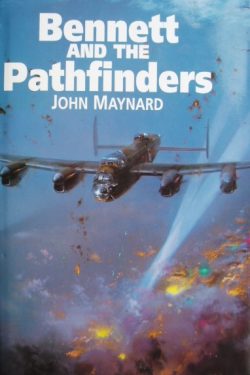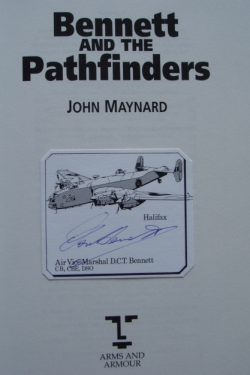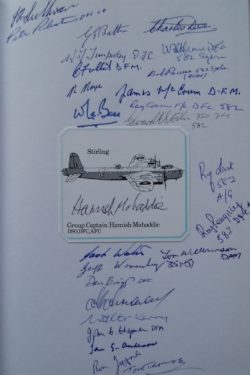 BENNETT and the PATHFINDERS
by John Maynard
Multi-signed by Pathfinders
Bookplate signed by Air Vice-Marshal D.C.T. Bennett CB CBE DSO
Bookplate signed by

Group Captain Hamish Mahaddie DSO DFC AFC*
Signed by 26 Pathfinder aircrew
Arms & Armour Press First edition 1996.  249 pages plus photographs
Fine condition hardback book and dustjacket. Clean, bright and tight in a protective wrapper.
This book is a new perspective on this significant element of Bomber Command and the effect that the Pathfinders and their leader had on the success of the air war.
Air Vice-Marshal Don Bennett was one of the most outstanding figures of the WWII and the creator and leader of the legendary Pathfinder Force of 8 Group. Almost every RAF Main Force attack was led by the Pathfinders. By the end of the war Don Bennett was commanding a total of 19 squadrons of the Pathfinder Force and was revered by his crews.
Group Captain Thomas "Hamish" Mahaddie had earned his wings and reached the rank of sergeant pilot by the outbreak of the Second World War. In his second tour he was selected to be a member of the newly formed Pathfinder Force. At the end of the tour he was brought onto AVM Don Bennett's Staff in the position of Group Training Inspector to select and train aircrews to serve in the Pathfinder Force. Within the span of two years from the start of the war Mahaddie had risen in rank from sergeant to group captain.
An interesting analysis of the PFF greatly enhanced by a fantastic collection of signatures.