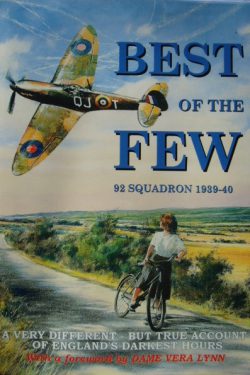 BEST of the FEW
92 Squadron 1939 ~1940
First edition 2001.     170 pages and very well illustrated with photographs
A Fine condition hardback book and Fine condition unclipped dustjacket. The book comes with a handwritten note from the author and a page of research notes on 92 Squadron from the ORB detailing Spitfire serial numbers, their pilots and various events such as crashes and victories.
92 Squadron was one of the most famous and most colourful of all of the RAF Battle of Britain Squadrons.  This book illustrates the background and character of each pilot and gives a detailed account of the squadron's activities from the outbreak of war to the end of 1940.  It has been painstakingly researched from official records, personal diaries and eye-witness accounts to give a fascinating encyclopaedia of information to supplement the numerous books written by and about members of the squadron.
A fascinating insight into the exploits of the famous 92 Squadron.  Brian Kingcome was 92 squadron's acting CO throughout much of the Battle of Britain. He states:
'I always regarded 92 Squadron as my personal property. I led it through, what was to me, the most exhilarating and treacherous part of the war, the Battle of Britain.  I gained and lost many good friends and in front line operations I was with 92 longer than any other squadron'.
A great copy of a scarce squadron history which supplements such 92 Squadron memoirs as 'Fly For Your Life', 'First Light', 'Smoke Trails in the Sky' and 'A Willingness to Die'.