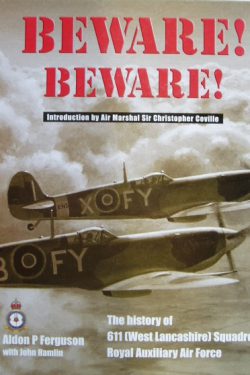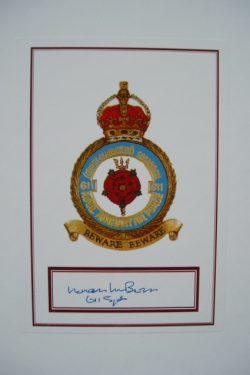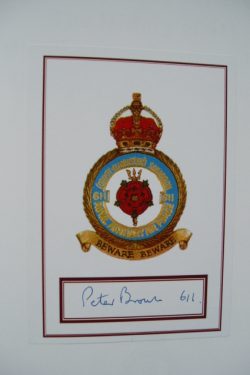 BEWARE! BEWARE! ~ 611 Squadron
The History of 611 (West Lancashire) Squadron
Signed by Battle of Britain Pilots
Bookplates signed by 61

1 Squadron Battle of Britain Pilots
Norman Brown
Peter Brown

Airfield Publications First edition 2004.  248 pages and well illustrated with photographs and very useful appendices.
Fine condition hardback book in photographic laminated boards as published.  Clean, tight and bright. The book feels unread. This is a particularly pleasing copy of this very scarce squadron history. One bookplate is mounted on the inside front cover and the other is facing it, on the front end paper.
Formed at Liverpool (Speke) Airport in 1936 with volunteers from the Liverpool area, the Squadron had an illustrious history up until its final disbandment in 1957. The squadron received Spitfires in May 1939 which it continued to fly in various marks up until 1951 when it re-equipped with Meteors.
The narrative is supported by over 200 photos and numerous appendices detailing every aircraft that served with 611; CO's, bases, Roll of Honour and combat claims. This is a history of a fighting squadron and its men, both air and ground crews who put their lives at risk in WWII, many paying the ultimate sacrifice.
A great copy of this excellent, very scarce squadron history enhanced by a neat pair of 611 Squadron Battle of Britain signatures.