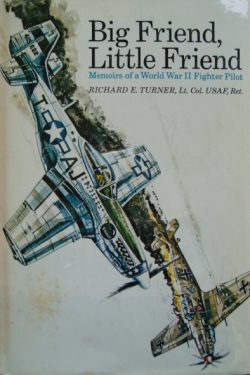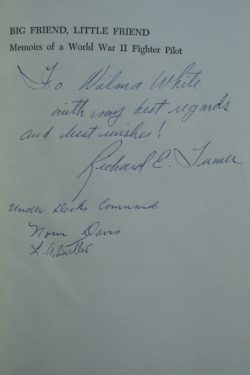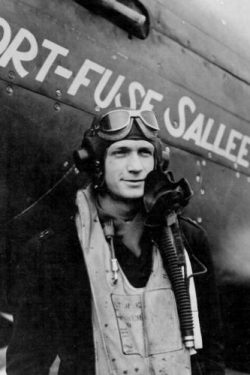 BIG Friend, LITTLE Friend
Memoirs of a World War II Fighter Pilot
Signed by Lt Colonel Richard E Turner
Inscribed & signed on the half title page by
Lt Colonel Richard Turner  
also signed by two other 354th Fighter Group Pilots
'Under Dick's Command'




Lt Norman E Davis




Lt Lester A Butler
Published by Doubleday & Company. First US Edition 1969.  176 pages and well illustrated with photographs.
This book was published in the UK in 1970 by William Kimber with the less obscure title of 'Mustang Pilot'. Heavy bombers were known as 'Big Friends' and the fighters of the escorting Pioneer Mustang Group were called 'Little Friends'.
Fine condition hardback book in a Fine condition unclipped dustjacket.  Clean, tight and bright; it feels unread.   
A 12 victory Ace with 354th Fighter Group, Colonel Turner vividly describes flying and fighting in his P-51 'Short Fuse Sallee'.  During his second full operational tour, Richard Turner became the CO of the 356th FS in 1944 and later flew in the Korean war. His book is a cracking read and one of the best American memoirs of the air war in the European Theatre of Operations. Richard Turner died in 1986.
Lt Norman Davis trained in the Republic P-47 Thunderbolt in the United States and in England, but a surprise awaited him when he arrived in France, 3 weeks after D-Day to join the 354th; he saw for the first time the fighter in which he would fly fifty missions. Davis never got to practice in the P-51; he went on his first mission never having flown the Mustang. "I was so intent on staying on my element leader's wing that he shot down a ME-109 on my first mission and I didn't even know it".
 A lovely copy of this very scarce signed autobiography rarely seen on this side of the Atlantic.