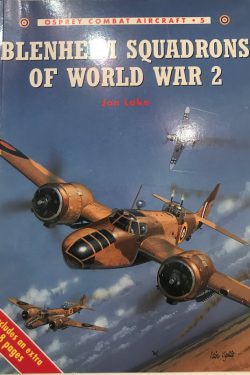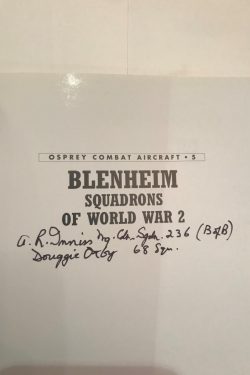 BLENHEIM SQUADRONS of WWII
Signed by Wg Cdr Aubrey Inniss DFC
 Signed on the title page by
 Wing Commander Aubrey Inniss DFC
Wing Commander Douggie Oxby DSO DFC DFM*

Osprey Publishing 1998.
Card cover book in Mint condition,
Built in large numbers in the years leading up to World War 2, Bristol's Blenheim saw use as both a fighter and bomber thanks to its high speed in relation to the biplane types it was then replacing. Aside from its work as the staple medium RAF bomber from 1939 through to 1942, Blenheims also served as pioneer radar-equipped nightfighters in 1940/41 and long-range patrol aircraft with Coastal Command. Obsolete in Europe by the end of 1940, the Blenheim continued to serve as a frontline bomber in North Africa, the Mediterranean and the Far East well into 1943.
W/C Aubrey Inniss DFC, flew Blenheims during the Battle of Britain with 236 Squadron , he was an ace shooting down 7 aircraft by the wars end, including a HE 111 while flying a Blenheim with 236. He died in 2003 and is a rare signature as he lived most of his life after the RAF in his birthplace of Barbados.
W/C Douggie Oxby DSO,DFC, DFM*. Oxby is credited with being the most successful radar operator in the RAF. He assisted with 22 victories in Malta and in Europe.
The two scarce signatures together are very rare.
Price:  £ 45
This item is listed on ACE
To make an offer or discuss this item with the seller, click HERE
NB. This book is located in Canada so postage cost should be considered.