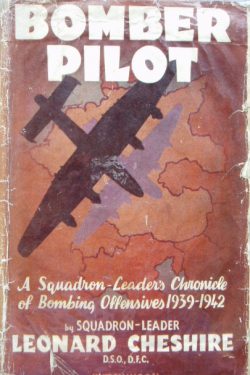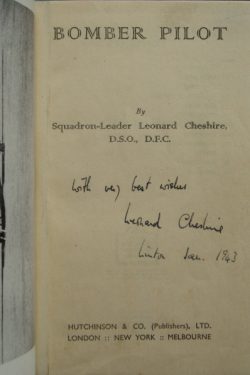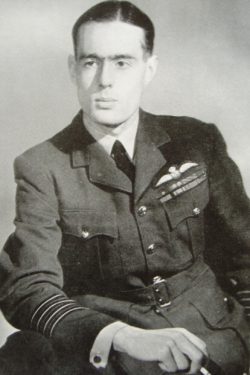 BOMBER PILOT
By Leonard Cheshire VC DSO DFC
Signed by Leonard Cheshire
Signed by Leonard Cheshire in black ink on an inserted title page
"With very best wishes
Leonard Cheshire
Linton
Jan 1943"
Hutchinson First edition 1943.     136 pages plus 20 pages of photographs
The signed page, dating from the month of the book's first publication, was rescued from an extremely tatty copy of 'Bomber Pilot'. It has been carefully inserted into a Fine condition hardback example of the book which is clean and bright with a solid binding.  The dustjacket has been restored and reinforced to the reverse but it is only really in Fair condition.  Any dustjacket for this book is very hard to find due to the flimsy quality of the wartime paper and this one is now protected with a Brodart cover which makes the book look presentable. 
Leonard Cheshire became a legend in his own lifetime, not only for his wartime exploits but also for his later humanitarian, peaceful and philanthropic activities.  This was his first book, published in early 1943, which told of his experiences as a young bomber pilot facing the everyday realities of war in the air, recounted with honesty and humour. 
The citation to the award of the second bar to Cheshire's DSO reads:
This officer has commanded the squadron (617) with notable success. Within recent months he has participated in many attacks on targets of vital importance to the enemy, and the successes obtained are an excellent tribute to his outstanding tactical ability, great courage and iron determination. He is a splendid leader, whose personal example and untiring efforts have contributed in a large measure to the high standard of efficiency and fine fighting qualities of the squadron he commands.
An excellent undedicated wartime Leonard Cheshire signature.