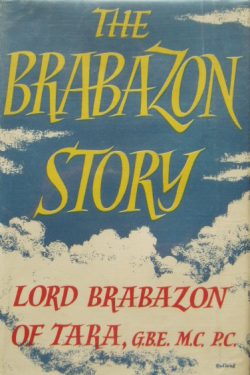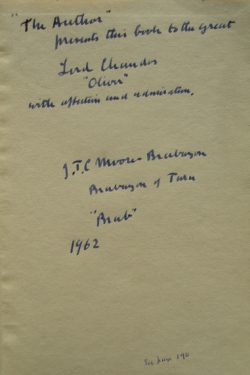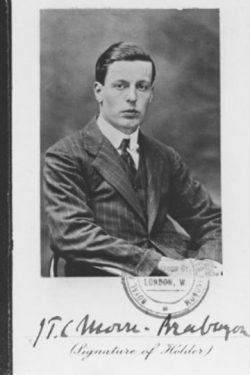 The BRABAZON STORY
The autobiography of one of Britain's greatest pioneer aviators
Signed by Lord Brabazon of Tara
Sold
Inscribed & signed by Lord Brabazon of Tara, 1962
'The Author presents this book to the great
Lord Chandos 'Oliver'
with affection and admiration
JTC Moore-Brabazon
Brabazon of Tara
'Brab'
1962″
Oliver Lyttelton, 1st Viscount Chandos, KG DSO MC PC (1893–1972) was a British businessman who was brought into government during the Second World War, holding a number of ministerial posts including President of the Board of Trade.  He is mentioned in the book on page 190.
William Heinemann First edition 1956.  227 pages and well illustrated with photos
The book is in Fine condition, bright, tight and crisp with a Fine condition dust jacket.  A superb copy.
John Moore-Brabazon  (1884-1964) learned to fly in France and became the first person to be licenced in Great Britain as an Aeroplane Pilot, holding Royal Aero Club Pilot Certificate No 1 and he filled a prominent position both in the aviation history and the public life of Great Britain.   He went up in balloons while still at Cambridge; he was one of the first to take up motor racing; he was an aviation pioneer before the war and flew with the RFC in WW1 making important contributions to aerial photography.  He was an accomplished golfer, a veteran of The Cresta Run and he ran the Ministries of Transport and Aircraft Production during WW2.
In 1909 he made the first live cargo flight by aeroplane, by fixing a waste-paper basket to a wing-strut of his Voisin. Then, using it as a cargo hold, he airlifted one small pig thus proving that pigs could fly! In October of that year Brabazon won the first all-British competition prize offered by the Daily Mail for the first machine to fly a circular mile course and later that year he won a 'long distance flight' prize of £1000 with a distance of 17 miles.
A fascinating and humorous autobiography and a scarce signed aviation book previously belonging to an eminent national figure.