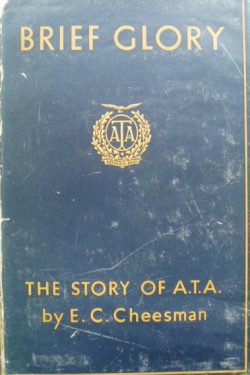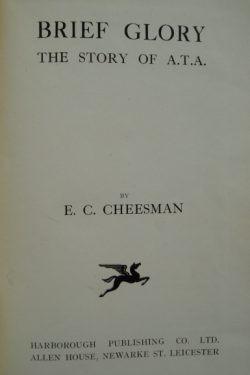 BRIEF GLORY
The Story of Air Transport Auxiliary
Harborough Publishing Company first edition 1946.  246 pages and profusely illustrated with photographs. The appendices contain valuable information including a list of ATA pilots, ferrying figures and lists of types of aircraft flown.
A Very Good condition hardback book  in blue boards with gold gilt titles to the front and spine. With a Good condition unclipped dustjacket which is complete apart from a small amount of loss at the corners and on the spine. It is a little rubbed but looks smart in its protective cover.  This is a very scarce book, particularly in an original dustjacket.  This particular example probably belonged to a member of ATA because scattered throughout the photos in the book are neat pencil notes putting names and nicknames to people in the pictures.
'Brief Glory' was the first authentic, insider account of the rise to fame and ultimate disbandment of Air Transport Auxiliary, the largely unsung Ferry Pilot service of the war.  Starting with 30 amateur pilots, the numbers finally totalled over 700 who, between 1939 and 1945 ferried more than 308,000 aircraft of more than 100 different types.
The stories of their adventures is told simply and often amusingly, but the tale of their losses gives an indication of the hazards of the job.  With few exceptions they flew alone and entirely without the aid of wireless in almost any weather.  It is worth remembering that during the war years every RAF aircraft seen in the sky had been, or would be, flown at some point of its life by a pilot of ATA.
This is a very collectable and readable book for any aviation library.