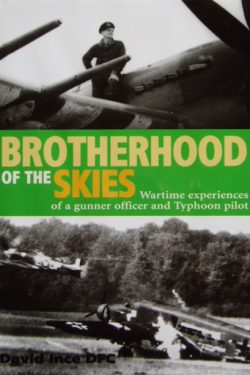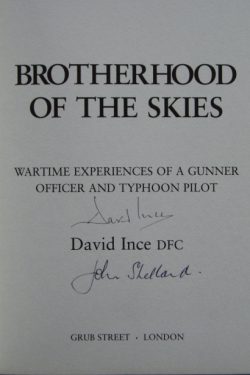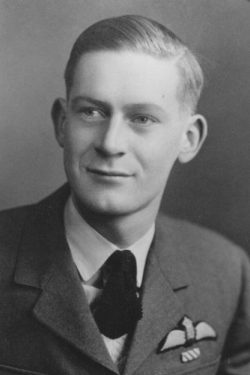 BROTHERHOOD of the SKIES
Wartime experiences of a gunner officer and Typhoon pilot
Signed by David Ince DFC
Signed by David Ince and John Shellard on the title page
Grub Street First edition 2010.  224 pages and well illustrated with photos.
A Fine condition hardback book and dustjacket. It is clean, tight, bright and feels unread. Practically new.
Glasgow-born David Ince, a Royal Artillery officer, won a DFC as a pilot with RAF Hawker Typhoon ground-attack squadrons harrying Nazi factories, trains, traffic and retreating armies from Normandy across north-west Europe until Allied victory in May 1945. Ince flew and survived 150 sorties with 193 and 257 squadrons. He also test-flew for, and took part in, the only known operational use of napalm against the enemy in Europe; and after the war completed a test pilot course and became a record-breaking competitive glider pilot.
A very readable account of the author's experiences and his views on leadership in action.  He is frank and outspoken about the courage, fear, team spirit and motivation that he and his comrades shared throughout the war.  The story of his remarkable life in flight is atmospherically told and skilfully conveys the urgency and mood of the times, the fascinating people he encountered and the obstacles that he met along the way.
Flt Lt John Shellard was a Typhoon pilot on 263 Squadron.
This is a very nice signed copy of a thought provoking book.
This book is listed on ACE. To purchase, please contact Spitfire Books