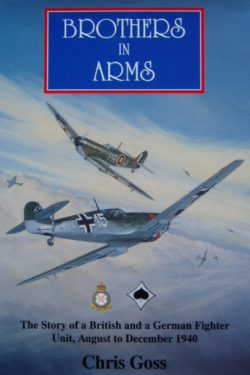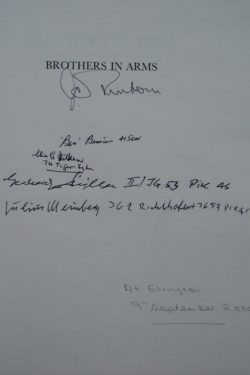 BROTHERS in ARMS
The Story of a British and a German Fighter Unit, August - December 1940
Signed by Battle of Britain Pilots
Signed on the half title page by 3 RAF and 2 Luftwaffe pilots
Wg Cdr John Freeborn DFC ~ 74 Squadron Battle of Britain
Sqn Ldr 'Ben' Bennions DFC ~ 41 Squadron Battle of Britain
Warrant Officer Clive Hilken ~ 74 Squadron Battle of Britain
Gerhard Schiller ~ Meimberg's wingman in II/JG53 (1945)


Major Julius Meimberg KC ~ JG.2 Battle of Britain
Signed at YAM Elvington on 9th September 2000 (in pencil)
Crecy Books. First edition 1994.  201 pages and very well illustrated with photographs
Fine condition hardback book and fine condition dustjacket.
There have been many accounts written of the Battle of Britain both from the British and Allied fighter pilot's perspective on the one side, and the German aircrew on the other. In this book both sides are shown in a day-to-day, blow-by-blow account that recalls those momentous events of late 1940.
By tracing this action through the deeds of two fighter units, 609 Squadron and 1/JG53 – the former an RAF squadron based in southern England and the latter a Luftwaffe Staffel based in northern France – the author brings to life the tense action of aerial combat, the relief felt by the individual pilots surviving those encounters, the elation of the successful kill , the tragedy of seeing a friend shot down and the resolve to go up and do it all over again.
Meimberg was an ace with 53 victories and became Kommandant of II/JG.53 in 1944.  He has signed a photo of himself on page 94 of the book.
An entertaining and very readable Battle of Britain book which highlights the similarities that existed between the fighter pilots on opposing sides, enhanced by a neat collection of signatures.