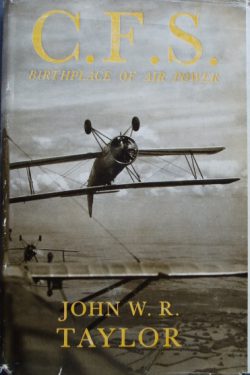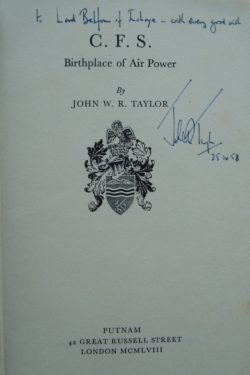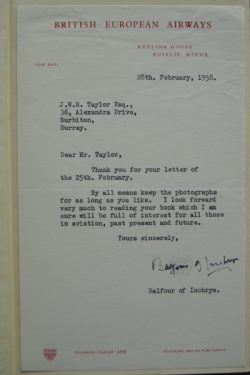 C.F.S. ~ Birthplace of Air Power
By John WR Taylor
From the library of Lord Balfour of Inchrye MC*
Sold
Presentation to Harold Balfour, 1st Baron Balfour of Inchrye MC*

To Lord Balfour of Inchrye – with every good wish
JWR Taylor
25 ix 58
Also included is a signed letter from Lord Balfour to John Taylor concerning material for the book,
on BEA headed notepaper dated 28th February 1958
Putnam First edition 1958.  222 pages and well illustrated with photographs.
Very Good condition hardback book in a Very Good condition unclipped dustjacket. Clean and bright with a solid binding. The letter comes from an archive of letters from JWR Taylor from when he was researching material for the book and has been fortuitously married up with the presentation book that the author sent to Lord Balfour. Lord Balfour is thanked in the acknowledgements and an anecdote concerning him is related on pages 65/6.
The Central Flying School – "C.F.S." to everyone who has ever been there – is as old as air power. It was formed in 1912, simultaneously with the original Royal Flying Corps, to train the world's first military pilots. Under officers like Capt. Godfrey Paine, R.N. and Major Hugh Trenchard, men destined one day to lead the Royal Air Force learned their trade in stick-and-string biplanes.  Using Smith-Barry's teachings, the quality of instruction was such that pilots came from all over the world to take the course – as they still do.  This is a well researched and entertaining account of the school, full of anecdotes involving airmen who came to future prominence such as Richard Atcherley, Dermot Boyle, John Boothman, Louis Strange, John Slessor, D'Arcy Grieg and many more.
Harold Harington Balfour, 1st Baron Balfour of Inchrye, MC* PC (1897 – 1988) joined the 60th Rifles in 1914 and served in France for three months before he transferred to the Royal Flying Corps. After training he was posted to No. 60 Squadron. In 1917 he was serving with No. 43 Squadron when he downed two enemy aircraft while flying a Sopwith 1½ Strutter. He was injured in a crash and moved on to the School of Special Flying under Smith-Barry then returned to No. 43 Squadron where the training paid dividends as now piloting the Sopwith Camel he claimed 7 more victories and was promoted to major.
After some time at The Central Flying School, he was private secretary and Aide-de-camp to Air Vice Marshal Sir John Salmond 1921–22 and temporary ADC to Sir Samuel Hoare, Secretary of State for Air, 1923. He retired from the Royal Air Force in 1923 to follow a career in journalism, business and politics. He was an MP and as Under-Secretary of State for Air in 1944 he was instrumental in the establishment of London Heathrow Airport. Later, he was Chairman of British European Airways.
A unique and highly collectable combination!