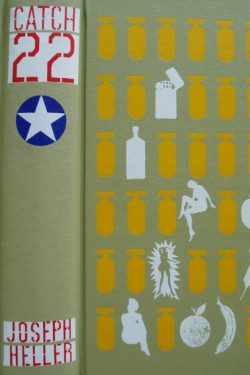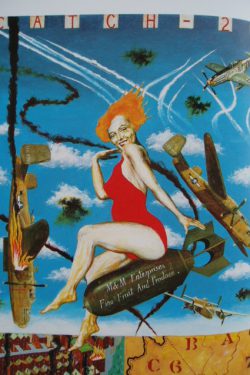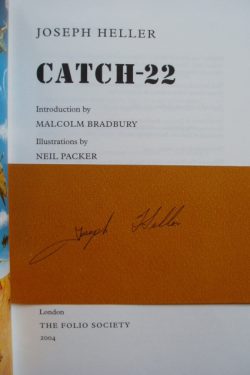 CATCH-22
A novel by Joseph Heller
Illustrated Edition with Signature
"There was only one catch and that was Catch-22, which specified that a concern for one's safety in the face of dangers that were real and immediate was the process of a rational mind. Orr was crazy and could be grounded. All he had to do was ask; and as soon as he did, he would no longer be crazy and would have to fly more missions. Orr would be crazy to fly more missions and sane if he didn't, but if he were sane he had to fly them. If he flew them he was crazy and didn't have to, but if he didn't want to he was sane and had to. Yossarian was moved very deeply by the absolute simplicity of this clause of Catch-22 and let out a respectful whistle".
The classic satirical novel by Joseph Heller
Beautifully bound, illustrated Folio Society edition with a Joseph Heller signature

 
The Folio Society edition, 2004.    438 pages and 9 full page colour plates. Pictorial endpapers and colour headbands.
Very Fine condition book in a slipcase.  Stunning full cloth binding blocked with a stencil design by artist Neil Packer. A sumptuous copy of this classic book. As new.  The Joseph Heller signature is tipped onto the title page by its left edge.  It was taken from the colour endpaper of a book that he signed at a book signing in Bristol in 1985. The invitation card is included with the book.
The novel is set during World War II, from 1942 to 1944. It mainly follows the life of Captain John Yossarian, a U.S. Army Air Forces B-25 bombardier. Most of the events in the book occur while the fictional 256th Squadron is based on the island of Pianosa, in the Mediterranean Sea, west of Italy. The novel looks into the experiences of Yossarian and the other airmen in the camp, who attempt to maintain their sanity while fulfilling their service requirements so that they may return home.
Catch-22 was one of the most significant American novels of the 20th century. Since its release in 1961, 10 million copies have been sold and it has recently been adapted into an acclaimed mini-series currently showing on Channel 4 in the UK.
Click on pictures below to view the gallery: