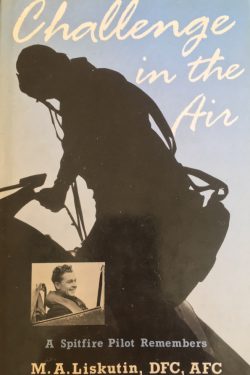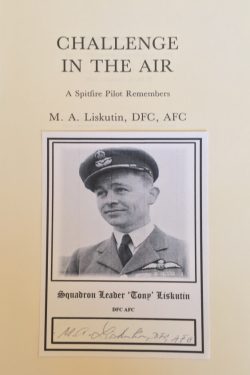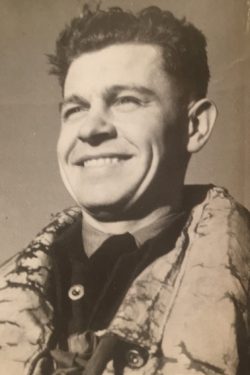 CHALLENGE in the AIR
A Spitfire Pilot Remembers
Signed by Miroslav Liskutin REDUCED
Bookplate signed by
Squadron Leader Miroslav Liskutin DFC AFC

William Kimber first edition 1988. Very Good condition hardback book with dust jacket
An 8 victory Ace, 'Tony' Liskutin was born in Czechoslovakia in 1918. After completing an engineering apprenticeship he joined the Czechoslovak Air Force and trained as a pilot with the 2nd Air Regiment. Realising that war was imminent he escaped through Poland and joined the French Armée de l'Air after completing six weeks of training with the French Foreign Legion. He served in North Africa and in France before escaping to England after the German Blitzkrieg in May 1940. His escape was by way of a Polish coal ship with 500 others from Bordeaux to Falmouth. Liskutin was accepted into the RAF, learnt English and continued his flying training before being posted in September 1941 to the Spitfire equipped 145 Squadron based at RAF Catterick.
Three months later he joined No 312 (Czech) Squadron and on August 19 1942 took part with his squadron in the aerial support of the Dieppe Raid. On this day he shot down a Dornier Do 217 German bomber. Ground attack operations over France continued for the remainder of the year and on November 7 he destroyed a Fw 190. He commenced a second tour with No 312 Squadron in July 1943 and in March of the following year began operating with his squadron from RAF Appledram Advanced Landing Ground, near Chichester Harbour. Operations from Appledram included dive-bombing attacks against V-1 flying bomb installations, bomber escort duties and ground attacks on rail and road targets. At the end of May, Liskutin narrowly avoided disaster when his Spitfire hit the top of poplar trees when carrying out a low-level ground attack. In spite of badly damaging his Merlin engine, he successfully managed to return to Appledram to make an emergency landing. During a patrol over Normandy a few days after D-Day, Liskutin's Spitfire was hit by flak; again he managed to force-land, this time on one of the newly constructed landing strips in Normandy. His was probably the first landing by an Allied aircraft after the invasion.
In early August 1944 the Czech Wing was transferred to the Air Defence of Great Britain (ADGB) for defensive duties and No 312 moved to RAF Tangmere and a little later to RAF Lympne. While operating at Lympne, Liskutin shot down a V-1 over Maidstone. At the end of 1944 and the end of his second tour it was announced that he had been awarded the Distinguished Flying Cross. From March 1945, he flew with another Czech squadron (No 313), equipped with Spitfire Mk IXs and fitted with 190 gallon 'slipper' fuel tanks to extend the range of the aircraft; the squadron's new role was to escort bombers deep into Germany.
In August 1945 Liskutin returned with No 313 to Czechoslovakia where it became No 7 Air Regiment but three years later he escaped the Soviet-backed Czechoslovak coup d'état and returned to the UK where he rejoined the RAF as a flying instructor, serving for eight years first in England and then in Cyprus. In 1956 he was posted to No 85 (All Weather) Squadron at West Malling and, after staff appointments, Squadron Leader Miroslav Liskutin DFC AFC retired from the RAF in 1962.
Price: £ 15
This item is listed on ACE
To make an offer or discuss this item with the seller, click HERE