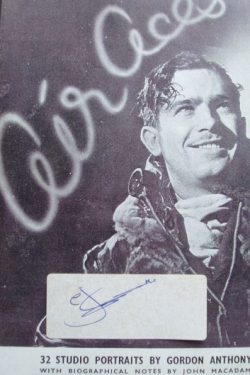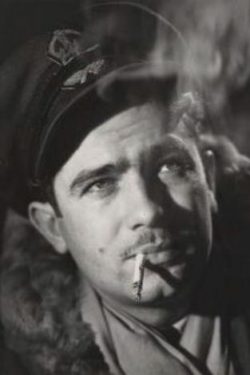 Charles Samouelle DFC*
Signed label
Signed by Wg Cdr Charles J Samouelle DFC*
Price: Serious offers invited until 31st October 2020
OCTOBER     ~    *SIGNATURE OF THE MONTH*
There are some aviation signatures that are very sought after by collectors
from all over the world, from pioneer pilots and designers to aces and astronauts. 
Therefore, each calendar month, Spitfire Books is offering an interesting signature for sale
and invites collectors to submit a 'best offer' during the month by email or telephone
---
A label with the rare signature of
Wing Commander Charles Samouelle DFC*
Ace with 10+ victories
'Sammy' Samouelle joined 92 Squadron as a Sergeant in early 1942 just as the unit left for North Africa. By November he had been commissioned after achieved considerable success in the Western Desert and by the end of the year had six victories, all over fighters, and a DFC and added a bar to that in early 1943.  Returning to the UK he flew Spitfires with 41 and 130 Squadrons adding more fighter victories to his tally.
In 1944 he was photographed by Gordon Anthony and his picture featured on the cover of his book 'Air Aces' and another of Anthony's iconic portraits of him is in the collection of the National Portrait Gallery.
The label measures approx. 9 x 4 cm and is in Very Good condition