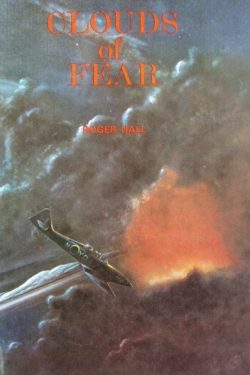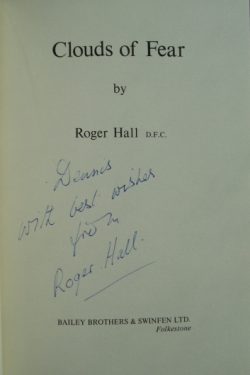 CLOUDS of FEAR
An extraordinary true story of combat in the Battle of Britain
Signed by Flt Lt Roger Hall DFC
Inscribed and signed on the title page by
Roger Hall DFC
Published by Bailey Brothers and Swinfen Ltd. First edition 1975.
Fine Condition hardback book and a Fine condition unclipped dustjacket. Clean, bright and tight. A really smart copy. 
This is the very personal and brutally honest autobiography of Roger Hall, a Spitfire pilot with 152 squadron during the Battle of Britain.  Besides battling with the Luftwaffe, he had to confront his own fears of flying and mental breakdown and perhaps this enabled him to write some of the most vivid and gripping descriptions of air combat ever produced.
Transferring to the RAF from the army, after training Roger (Sammy) Hall joined 152 Squadron on 2nd September 1940 at the height of the Battle of Britain. On the 27th Hall damaged a Me110 and on 7th October he damaged a He111. In December 1940 he was posted away to join 255 Squadron flying Defiant night fighters. He destroyed a He111 over the Humber on 10th February 1941, 255 Squadron's first victory and then in September Hall joined 72 Squadron as a Flight Commander. In April 1942 he went to 91 Squadron at Hawkinge making his last operational flight in September as he lost his flying category for medical reasons and transferred to the Administrative Branch. Hall was released from the RAF in 1944 as a Flight Lieutenant. He went on to join BEA as an administrator and then worked for 30 years with the RAC. He joined the RAFVR in 1960 and wrote this moving memoir which has recently been re-published by Amberley as 'Spitfire Pilot'. Hall died on 19th December 2002 and is buried in St. James Cemetery, Dover.
A surprisingly scarce signed Battle of Britain memoir.