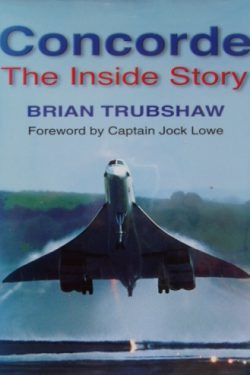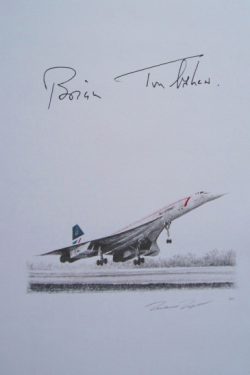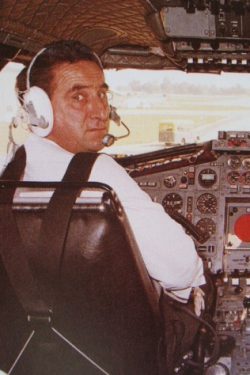 CONCORDE: The Inside Story
By Brian Trubshaw
Taylor Remarque Signed by Brian Trubshaw
Sold
Completely unique Remarque on the front end paper
Exquisite Richard Taylor pencil Remarque with colour highlights
Signed by Brian Trubshaw
Sutton Publishing. First edition 2000. 176 pages.  More than 150 photographs, many in colour.
Fine condition hardback book and dustjacket. Clean tight and unmarked.
Richard Taylor's extraordinary skill with his trademark pencil and paint combination is unsurpassed and his drawings are highly prized by collectors. Having his drawing of an iconic British Airways Concorde on the front end paper of this superb book, set below Trubshaw's original flat signature is a fantastic, one-off combination.
As Chief Test Pilot of Concorde during its development phase, Brian Trubshaw's close association with Concorde places him in a unique position to write the inside story of this remarkable aeroplane; from the early days of its planning in the 1950s, through design and pre-flight testing, maiden flight and demonstrations to certification and airline service. This is an all round look at one of the world's best known aircraft and is probably the best single book about it.  
A completely unique copy of this comprehensive book with a fantastic Remarque paired with the highly collectable signature of one of the most famous names in British aviation.