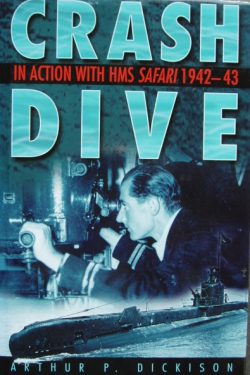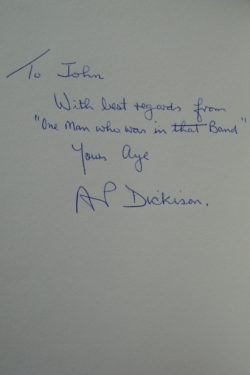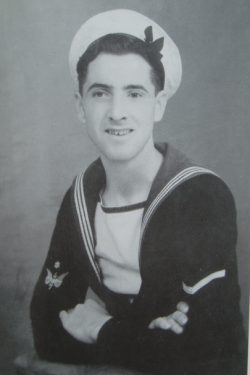 CRASH DIVE
In action with HMS Safari 1942-43
Signed by Leading Telegraphist Arthur 'Tel' Dickison
Sold
Inscribed & signed opposite the title page by
HMS Safari's leading Telegraphist, Arthur Dickison
Sutton Publishing (in association with the RN Submarine Museum) First Edition 1999.  212 pages and well illustrated with photos.
Fine condition hardback book and Fine condition unclipped dustjacket. Clean, bright and tight. A pleasing copy. The book comes with a handwritten letter from the author giving the book's provenance and explaining that the book's inscription 'one man who was in that band'  is a reference to Safari's most famous Captain Ben Bryant CB DSO**DSC  who wrote his autobiography in 1958 'One Man Band – Memoirs of a Submarine CO'.
OK. So this is not an aviation book, however it is an accurate and well written account of HMS Safari which was one of the most successful British submarines of WWII by the boat's Leading Telegraphist who provides a unique insight into the submarine's exploits and the full range of the submariner's experience.  Between March 1942 and September 1943 Safari sailed over 31,00 miles, spent 139 days submerged, fought 58 actions against Axis shipping and sank 34 ships – Ben Bryant the CO, was one of the top scoring Allied submarine aces of the war.
'Crash Dive' is not only a gripping story but also an important book because, unusually, it was written by a rating and not an officer, and for the most part, Dickison wrote his thoughts down at the time of the events he describes.  It is a unique contribution to the understanding of the war beneath the waves and the part played in it by the 'Silent Service'